Theresa May should 'speak out' on human rights during Gulf trip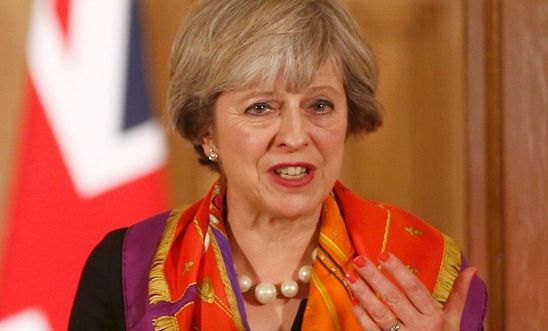 Theresa May has suggested that the UK's 'engagement' with the Gulf will help foster 'reform' © Getty Images
Prime minister's trip to Bahrain comes soon after Prince Charles' visit
'We need to see some measurable sign that the UK's "engagement" with the Gulf is actually helping human rights activists who are very much at risk of torture and imprisonment' - Polly Truscott
Ahead of Prime Minister Theresa May's attendance at the Gulf Cooperation Council summit in the Bahraini capital Manama this week (6-7 December), Amnesty International has urged the prime minister to publicly raise human rights issues.
Human rights are absent from the agenda at the annual meeting of the six Gulf Cooperation Council countries - Bahrain, Kuwait, Oman, Qatar, Saudi Arabia and the United Arab Emirates - but Amnesty is calling on Mrs May to use her visit to speak out about the need to for countries in the region to seriously improve their human rights performances. 
The Gulf Cooperation Council countries have markedly poor - and deteriorating - human rights records (see examples below), including as a result of crackdown on freedom of expression, the widespread use of arbitrary arrests, torture and unfair trials, and a failure to adequately protect the rights of migrant workers. The Saudi Arabia-led military coalition, which includes a number of Gulf Cooperation Council countries, has also launched a series of unlawful attacks in Yemen, including some that may amount to war crimes.
Ahead of the trip, Mrs May
claimed
that "engaging" with Gulf countries and "working with them to encourage and support their plans for reform" was part of her agenda for the visit.
Amnesty International UK's Foreign Affairs Analyst Polly Truscott said:
"Theresa May says the UK is achieving results by supporting Gulf countries in their 'reform' programmes, but there's scant evidence that there's any reform to actually support. 

 

"Across the Gulf we've seen hundreds of human rights activists, peaceful political opponents and government critics systematically targeted in the name of security.

 

"Mrs May needs to speak out about the human rights crackdown across the Gulf - not pretend that things are getting better when they're not.

 

"We need to see some measurable sign that the UK's "engagement" with the Gulf is actually helping human rights activists who are very much at risk of torture and imprisonment. 

 

"Many Gulf countries have petrodollar-filled pockets and are looking for lucrative trade deals - while the PM may be keen to demonstrate that Britain's open for post-Brexit business, this shouldn't mean sacrificing human rights at the altar of commerce."
Half a decade of renewed Gulf repression
In the years since the 2011 uprisings across the Arab world a clear pattern has emerged across the Gulf Cooperation Council countries of a reliance on broad, vaguely-worded national security laws to convict peaceful activists and critics after blatantly unfair trials.  Those targeted in the crackdown have included human rights activists, opposition leaders, journalists, lawyers and academics.
Among them is the Saudi Arabian lawyer and human rights activist defender Waleed Abu al-Khair, whose case is an iconic example of how the country's draconian counterterrorism legislation has been used as a tool to punish people exercising their right to freedom of expression. He is currently serving a 15-year-prison term after being convicted in an unfair trial under the country's 2014 counter-terror law on a range of offences related to his human rights work. He has defended many peaceful activists and has been a vocal critic of Saudi Arabia's terrible human rights record. Meanwhile, just last week the counter-terror court in Riyadh, increased - from nine to 11 years - the sentence of Issa al-Hamed, a Saudi Arabian human rights activist jailed after an unfair trial. 
In another emblematic case from the UAE, the human rights lawyer Mohammed al-Roken is serving a ten-year prison sentence after being convicted of national security charges following a blatantly unfair mass trial of 94 people (widely known as the "UAE 94" trial). 
In Bahrain, the prominent activist Nabeel Rajab is among several activists from Gulf Cooperation Council countries to have been unlawfully prosecuted for comments posted on Twitter. Speaking out freely to criticise government policies and call for peaceful reform also saw Sheikh Ali Salman, head of Bahrain's main opposition party, al-Wefaq National Islamic Society, sentenced to nine years in prison in a shocking attack on freedom of expression. The al-Wefaq party was also shut down. In Kuwait, Abdallah Fairouz, a human rights activist detained in 2013, is serving a total of five-and-a-half years' imprisonment for tweets expressing his view that no one should have immunity from prosecution because they reside in a royal palace. He is a prisoner of conscience.
Meanwhile, in Bahrain, the UAE and Kuwait hundreds of people have been unlawfully stripped of their nationality in recent years, often rendering them stateless and depriving them of key rights. This is part of an alarming regional trend of using enforced statelessness as a tactic to punish dissent.
Prime minister's trip to Bahrain follows Prince Charles' visit 
Theresa May's visit to Manama comes one month after a visit to Bahrain from Prince Charles's, ahead of which Amnesty issued the following human rights
briefing
.