Bahrain: briefing ahead of Prince Charles' visit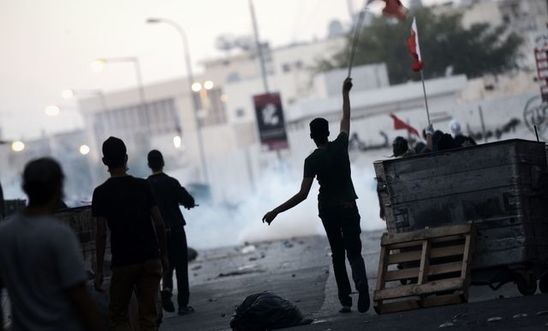 The Bahraini security forces have used tear gas and shotgun pellets on protesters © Mohammed al-Shaikh/AFP/Getty Images
Ahead of the Prince of Wales and the Duchess of Cornwall's visit next week to Bahrain, Amnesty International issued the following summary of its human rights concerns on the country.
QUOTES
Amnesty International UK's head of policy and government affairs Allan Hogarth said: 
"We're not expecting Prince Charles to reinvent himself as a human rights campaigner on this trip, but we hope he'll use some of his time to speak about universal values like free speech and open debate.

 

"In particular when Prince Charles meets Bahrain's King Hamad we'd like him to raise the plight of Nabeel Rajab. Mr Rajab is facing a lengthy prison sentence for his online remarks about the torture of detainees in one of Bahrain's jails as well as the country's role in the conflict in Yemen.

 

"Sadly, UK ministers have recently bent over backwards to paint a picture of Bahrain as a country pushing ahead with 'reforms' - the much darker truth is that it's a country hounding and locking up its dissidents.

 

"Prince Charles shouldn't be hoodwinked by either the Foreign Office's rose-tinted view of Bahrain or by Manama's own well-resourced PR machine. 

 

"His short visit isn't going to reverse the downward spiral in Bahrain, but he may wish to offer a few well-chosen words of advice to his royal counterparts over how jailing peaceful critics is not the way forward for Bahrain."
SUMMARY BRIEFING
Restrictions on free speech, and crackdown on free assembly and association 
The Bahraini authorities have clamped down on freedom of expression and imprisoned peaceful critics and human rights activists, the majority of whom have been convicted after unfair trials. People have been jailed for peacefully criticising Bahrain's king, Hamad ibn Isa Al Khalifa, as well as for making critical remarks about the Saudi Arabia-led air strikes in the conflict in Yemen, a conflict to which Bahrain is a party.
The authorities have also placed severe restrictions on the right of Bahrainis to participate in demonstrations and others forms of peaceful assembly. There is an indefinite ban on all public demonstrations in the capital Manama. The security forces regularly disperse unauthorised protests - which mostly occur in Shia villages, with protesters demanding the release of political prisoners - sometimes using excessive force, including tear gas and shotgun pellets. In addition, the country's main opposition party, Al Wefaq, has been forcibly dissolved and its leader jailed. Other opposition leaders, including some imprisoned in 2011, continue to languish in jail.
Case: the prominent human rights activist Nabeel Rajab and a former opposition leader Fadhel Abbas are two prisoners of conscience jailed for voicing concerns over Bahrain's involvement in human rights abuses in the conflict in Yemen on the social media site Twitter. Both men have criticised the killing of civilians in Yemen by the Saudi Arabia-led coalition's air strikes (the coalition includes Bahrain). Rajab has also posted tweets alleging that torture has been occurring in Jaw Prison (see below). He faces up to 15 years in prison, with a verdict expected in his case next month. Separately, Rajab faces charges of "undermining the prestige of the state" in relation to an article ("Letter From a Bahraini Jail") in the New York Times newspaper published in September, in which he described the conditions of his current detention. 
Other political leaders have been imprisoned for peaceful speeches criticising the government. Sheikh Ali Salman, leader of Al Wefaq, has been imprisoned for nearly two years following a four-year jail term for his peaceful speeches. Meanwhile, former opposition leader Ebrahim Sharif remains on trial before an appeal court for a similarly peaceful speech. He has served a one-year prison sentence but could face up to 13 further years in jail.
Torture and other ill-treatment
Torture and other ill-treatment of detainees, in particular suspects in security or terrorism-related cases, continues to be documented in Bahrain. Police and other security officials also beat or otherwise mistreat people when arresting and transporting them to police stations. Detainees in the notorious Jaw Prison, south of Manama, were beaten during a prison riot in March last year, with some detainees saying they were also beaten in the months that followed the disturbance. 
Case: Ali Isa al-Tajer was allegedly subjected to torture after his arrest in November last year. He told his lawyer that during 25 days of secret detention he was mostly kept naked and repeatedly beaten, as well as threatened with electric shocks. He also told a doctor that security officers had "beaten, threatened and stripped" him to force a "confession", leaving him with pains in "his head, ears, testicles, back and knees". 
Unfair trials
Hundreds of people in Bahrain have been convicted in unfair trials on charges of rioting, illegal gathering or committing terrorism-related offences. Many defendants in terrorism cases have been convicted largely on the basis of "confessions" they said interrogators had forced out of them, and some have later been sentenced to death based on these "confessions".
Revocation of nationality and statelessness
The authorities have arbitrarily revoked the nationality of over 300 Bahrainis - including nine children. Some of these were convicted of terrorism-related offences or other security-related offences by the courts, while others - including human rights activists and opposition leaders - have had their nationality revoked by the country's interior ministry. The majority of these people have been rendered stateless and at least six, including a human rights lawyer and two Shia clerics, have been forcibly expelled from Bahrain.