Thailand: Emergency decree banning gatherings 'yet another attempt to stamp out dissent'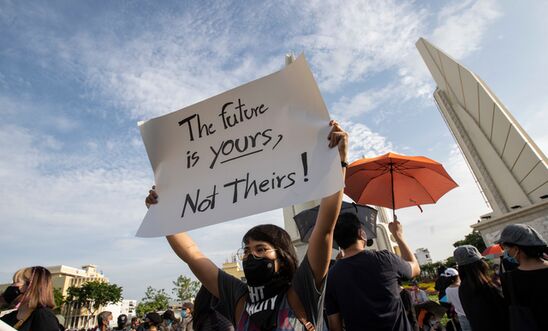 Protesters have been calling for institutional reform for months now (Bangkok protest held in August, pictured) © Adryel Talamantes/NurPhoto
Thai authorities have ordered an indefinite ban on gatherings of five or more people in Bangkok, under emergency measures to stop escalating pro-democracy protests
Order also bans publication of news or online messages that 'could create fear'
'These sudden and drastic emergency measures are just the latest escalation in Thailand's current onslaught on freedom of expression and peaceful assembly - Ming Yu Hah
Responding to news that the Thai authorities have ordered a ban on gatherings of five or more people in Bangkok and on sharing information that "could create fear", Amnesty International's Deputy Regional Director for Campaigns, Ming Yu Hah, said: 
"This vague, drastic order will lead to more people unfairly arrested, detained and prosecuted. With further public assemblies expected to happen today, we urge the Thai authorities to engage in constructive dialogue with the protesters. 
"The scale of today's early morning arrests seems completely unjustified based on yesterday's events. The assemblies were overwhelmingly peaceful. These moves are clearly designed to stamp out dissent, and sow fear in anyone who sympathises with the protesters' views. 
"Peaceful protesters must be released immediately and unconditionally, and all those detained must have access to legal counsel. These arrests and sudden emergency measures, announced in the middle of the night, are just the latest escalation in Thailand's current onslaught on freedom of expression and peaceful assembly. 
"Instead of ruling by decree and mass arrests, the Thai authorities must reverse course. They must comply with their international obligations to respect the rights of anyone who simply wishes to peacefully speak their mind, on social media or in the streets." 
Muzzling peaceful protesters
Today (15 October),Thai authorities ordered an indefinite ban on gatherings of five or more people in the country's capital Bangkok, under emergency measures to stop escalating protests. The ban took effect at 4am local time. The order also bans the publication of news or online messages that "could create fear", affect national security or damage public morale. 
Protesters are demanding reforms to Thailand's constitutional monarchy, which they claim does not operate within a democratic framework. The demands have triggered huge controversy because Thailand's royal family has long been considered sacrosanct and key to the country's identity. The institution is also protected by laws that mandate up to 15 years in prison for defaming the monarchy.
According to news reports, at least 20 people were arrested in the early hours of this morning for allegedly violating the state of emergency in place since May 2020 to respond to the COVID-19 pandemic. Amnesty urged the authorities at the time not to use this state of emergency to violate human rights. 
At least 21 people were arrested earlier this week for attending demonstrations.