Syria: US-led Coalition accepts responsibility for Raqqa deaths documented by Amnesty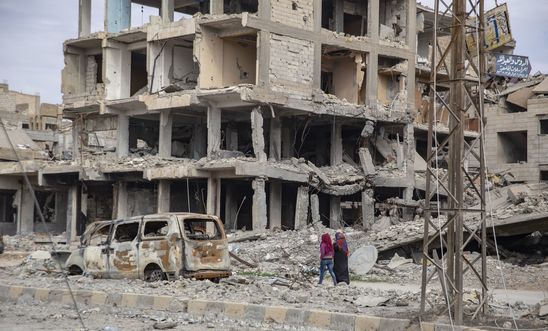 Raqqa was subjected to one of the most intense bombardments in recent history © Amnesty International
'The US-led Coalition's admission of responsibility is … a welcome U-turn' - Donatella Rovera
Call on Defence Secretary Gavin Williamson to 'set the record straight' after he sought to discredit Amnesty's findings in Commons remarks 
Amnesty International has welcomed a U-turn by the US-led military Coalition after it admitted to killing dozens of civilians in its huge Raqqa offensive in Syria last year. 
On 26 July, the Coalition acknowledged that its aerial bombardments between June and October last year killed 77 civilians, including 24 children and 25 women.
These were cases documented by Amnesty's independent field investigations in Raqqa, cases which the Coalition had previously brushed aside as "non-credible".
The Coalition's admissions raise questions over the true extent of the death toll. While the Coalition has now admitted killing eight civilians in one strike on 28 June 2017, it carried out another 16 other strikes on the city that day. On 18 July 2017, it also admits killing 11 civilians with a strike, but it carried out a further 46 strikes that day. Similarly, on 12 October, it admits to killing 16 civilians in one of the 29 strikes it launched that day on Raqqa. And it has admitted killing 42 civilians in two strikes on 20 August - just two of its 52 Raqqa strikes that day. These are just a few days of the four-month military operation during which Coalition forces pounded Raqqa relentlessly - "every minute of every hour", in the words of US Army Sergeant Major John Wayne Troxell.
Responding to the admissions U-turn, Amnesty said the Coalition must urgently launch thorough, independent investigations to uncover the full scale of civilian deaths and compensate the victims and survivors. 
Donatella Rovera, Senior Crisis Response Adviser at Amnesty International, said:
"The US-led Coalition's admission of responsibility is not surprising given the level of our evidence and marks a welcome U-turn in its stance on the many civilians killed by its Raqqa offensive. 

"But this is only the tip of the iceberg. Our detailed field investigations covered just four cases - but the many survivors and witnesses we spoke to on the ground pointed to a civilian death toll in the high hundreds.

"The Coalition's admission, based on Amnesty's research, shows the value of field investigations and exposes procedural flaws in the Coalition's investigations that need to be resolved. Unless the thousands of Coalition strikes in Raqqa are rigorously investigated the true scale of civilian casualties will likely never be established and the Coalition will continue to dismiss most allegations - a shocking denial of life and dignity for Raqqa's civilian population."
In addition to killing so many civilians, Coalition strikes left some survivors maimed for life and destroyed their homes and livelihoods. 
Benjamin Walsby, Middle East Researcher at Amnesty International, said:
"The plight of many of the survivors is dire. Nothing can ever bring back the dead or wipe away the unimaginable trauma. The least the Coalition can do right now is provide restorative measures - including compensation and rehabilitation - to victims' families and survivors, while its sets up the investigations that can bring full justice and reparation."  
Gavin Williamson's remarks
Last month, Defence Secretary Gavin Williamson said in the House of Commons that Amnesty's finding were "unfounded", branding Amnesty's report 70-page report "disgraceful" while praising the "amazing professionalism of our Royal Air Force".
Responding to Gavin Williamson's House of Commons remarks, Kate Allen, Amnesty International UK's Director, said:
"Gavin Williamson's attempt to discredit our research into the civilian carnage caused by Coalition air attacks in Raqqa was deeply regrettable and has now been thoroughly exposed by the coalition's own admissions. Mr Williamson should set the record straight, acknowledge the findings of our report and explain how the UK intends to investigate civilian deaths in both Raqqa and Mosul."
Right to know
Civilians impacted by the Coalition's aerial attacks have a right to know why their loved ones - very often their children - were taken from them. In four of the five fatal strikes documented by Amnesty, the Coalition claimed it targeted "Daesh (ISIS) fighting positions", unintentionally killing civilians in the process. In one case - a strike which killed five children and three adults - the Coalition said it targeted a "Daesh headquarters" and fighting positions. In the absence of an independent investigation and concrete and verifiable details, such shorthand explanations are woefully inadequate and cannot be expected to be taken at face value. 
Donatella Rovera said:
"The Coalition should dignify these deaths by releasing meaningful and verifiable information about these strikes - notably the exact location and nature of the targets, the methodology used for verifying the targets, and the measures taken to minimise the risk to civilians.

"Almost a year after the armed group calling itself Islamic State has been ousted from Raqqa, there is no military or security reason for withholding these details, which are crucial to determining the legality of strikes which killed and maimed civilians. How can the Coalition avoid inflicting high civilian death tolls in the future without accounting for what went wrong in Raqqa?"
Currently, victims' families do not even know which Coalition member state carried out the strikes. All Coalition forces involved - in carrying out airstrikes, refuelling planes or providing surveillance intelligence - must accept their role in the deaths and damage caused. 
Flawed intelligence
Faulty intelligence appears to have played a part in at least some of the killings the Coalition has admitted. Benjamin Walsby said: 
"How did the Coalition deem that they were hitting ISIS fighting positions and headquarters when in fact they were striking homes full of civilians?" For each of these specific strikes, the Coalition must reveal how the intelligence was obtained and the efforts made to verify the targets before striking."  
As Amnesty made clear in its report, patterns of civilian life in urban conflict zones - including sheltering indoors for prolonged periods and searching for food and water in areas close to frontlines - were well understood before the military operation to wrest Raqqa from ISIS began. The Coalition has not yet provided any information on the steps it took to ascertain the presence of civilians before carrying out these specific strikes. For example, the Coalition has not revealed for how long it monitored buildings before striking them and how it triangulated the initial intelligence with other information sources.  
Amnesty's field investigations
In contrast to the Coalition which has failed to conduct field investigations into its Raqqa air attacks, Amnesty spent several weeks in the city conducting investigations, visiting 42 Coalition airstrike sites across the ruined city and interviewing 112 civilian residents. These investigations pointed toward the Coalition having killed hundreds and injured thousands of civilians during its offensive. In four cases alone, Amnesty found that Coalition airstrikes killed dozens of civilians, mostly women and children - including 39 members of a single family.