Syria: Government forces have bombed medical facilities, school and bakery in Idlib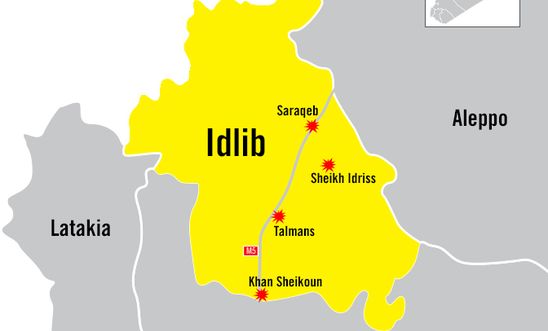 Location of the attacks © Amnesty International
Six recent attacks verified by Amnesty, with children among those killed
'The Syrian government continues to show utter disregard for the laws of war and the lives of civilians' - Lynn Maalouf
Syrian government forces, abetted by Russia, hit a hospital, a blood bank and other medical facilities - as well as a bakery and a school - in towns and cities under the control of armed opposition groups in Idlib, in what appear to be direct attacks on civilian objects or indiscriminate attacks, Amnesty International said today after verifying six attacks (see details below). 
Over the past month, the Syrian government has escalated airstrikes and artillery attacks on densely-populated areas located on the strategic Damascus-Aleppo international highway in Idlib, known as M5. 
Amnesty interviewed 13 residents who witnessed attacks in Saraqeb, Khan Sheikhoun, Talmans and Sheikh Idriss in Idlib, verifying witness testimony through analysis of videos, open source information and satellite imagery. At least four civilians were killed and four were injured in the attacks. 
Amnesty's Digital Verification Corps was able to corroborate many of these claims by video analysis, including the testimonies from Saraqeb residents regarding the 9 March attack on a blood bank and al-Hayat hospital. Amnesty also reviewed satellite imagery recorded on 17 March and identified Al-Hayat hospital and geo-located the probable blood bank close to the hospital using verified open source information, social media photos and videos. What is likely a large crater is visible approximately 100 yards west of the hospital in a field. 
According to the testimonies, the recent escalation in violence has displaced thousands of people to cities and towns close to the border with Turkey. 
Meanwhile, according to witnesses, Hay'at Tahrir al-Sham (HTS) and armed groups operating under its umbrella are present in several cities and towns either on checkpoints, in military bases or police stations, or they conduct patrols of residential neighborhoods. Also, local civilian-run councils are believed to be - in some cases by force - affiliated, supported or guarded by the Salvation Government, established in 2017 by HTS. 
Lynn Maalouf, Middle East Research Director at Amnesty International, said:
"Eight years into the crisis, the Syrian government continues to show utter disregard for the laws of war and the lives of civilians. 

"Deliberate attacks on civilians and on civilian objects, including hospitals and other medical facilities, and indiscriminate attacks that kill or injure civilians are war crimes.

"Russia and Turkey, as the key backers of the parties to the conflict, should heed the warning of the UN and ensure that the imminent offensive on Idlib prioritises the protection of civilians and does not exacerbate the humanitarian crisis.

"Turkey should open its borders to civilians wishing to flee and to humanitarian organisations providing impartial relief to civilians in need of assistance in parts of Syria under Turkey's control.

"HTS has an obligation to take all feasible precautions to protect civilians under its control, including by avoiding locating fighters and military objectives in the vicinity of concentrations of civilians."
School attacked in Sheikh Idriss
On 26 March, Syrian government forces fired rockets at a school in Sheikh Idriss, east of Idlib city, at around 8:30am. Two staff members in a field hospital in Saraqeb told Amnesty that the attack had killed a ten-year-old boy and injured two other boys, aged nine and ten, one of whom is in a critical condition. According to residents, it appears that the rockets were launched from Abou Dohour military base located 12 miles away from Sheikh Idriss. There are no military targets in the vicinity of the school. 
A resident who visited the school in the immediate aftermath of the attack said:
"I heard the explosion and immediately headed to the school. I was there within three minutes of the attack … One of the rockets landed in the school playground. It seems there were kids playing then. Three were injured. One of them died … I saw the blood and the crater … there has been a lot of rocket launcher attacks from Abu Dohour airport … It was clear the school is the target because one of the rockets dropped in the playground and the rest of them dropped around the school, 200-metre radius. There are no military targets there. No HTS or any other factions. This area is located in the demilitarisation zone so there is really nothing there."
Field hospitals attacked
On 9 March, in Saraqeb, Syrian government forces dropped four munitions in an aerial attack that struck al-Hayat hospital, a blood bank, an ambulance response unit and Syrian Civil Defense, also known as the White Helmets - all located within 100 yards of each other - according to four witnesses. 
The witnesses said the explosions caused serious damage to buildings and injured a staff member from the ambulance response unit. The al-Hayat hospital was shut down after the attack and patients in critical condition were transferred to other nearby hospitals while others were sent home.
Witnesses told Amnesty that two civilians - a 25-year-old man and a child - were killed on the same day in aerial attacks on residential neighbourhoods around 150 yards away from another field hospital. They said the escalation in attacks on residential and other civilian buildings in the past few weeks had displaced half of the population to the outskirts of Saraqeb into the farming fields or close to the border with Turkey.
Similarly, in the village of Talmans in southern Idlib, two residents told Amnesty that on 11 March at approximately 3:35pm, Syrian government forces shelled an area near al-Rahme private hospital. The shells fell on a nearby grain field killing two agricultural workers and injuring a third. No military targets are located in the vicinity of the attack. One of the residents told Amnesty that people displaced from other towns and villages are living near the hospital. He said:
"Al-Rahme hospital was targeted with four shells. They all dropped next to the hospital not inside it. The hospital went out of service because the area is being targeted daily. It is a private hospital. The owner closed it to avoid other attacks."
Amnesty also interviewed four residents from Khan Sheikhoun, south of Idlib, who said the vast majority of residents had been displaced after escalating airstrikes and artillery attacks in February destroyed or damaged homes and other buildings, including two bakeries and medical clinics located in residential buildings. A civil defence volunteer said:
"The al-Rawda bakery, the central bakery in Khan, was destroyed in an airstrike attack on 11:30am ... I removed the bodies of two men who died in the explosion in front of the bakery onto the street." 
Residents said that there was no longer any operational hospital in Khan Sheikhoun after an airstrike attack had destroyed the only field hospital in the town in February 2018. The closest hospital is 12 miles away in Maarat al-Noman. 
Saraqeb is under the control of the Brigade of the Revolutionary Front of Saraqeb and Countryside, which comes under overall HTS control.