Syria: fatal shooting of child in al-Hol camp must be fully investigated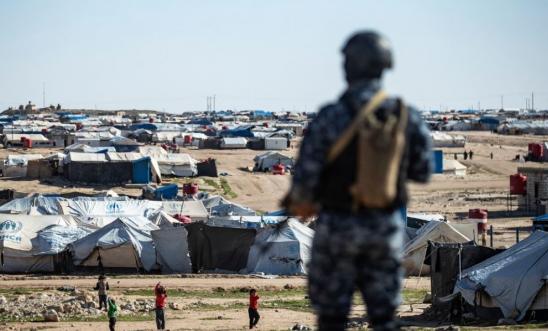 The huge camp hold tens of thousands of people © DELIL SOULEIMAN/AFP via Getty Image
It remains unclear why Syrian Kurdish Autonomous Administration police officers opened fire on women and children 
An estimated 60,000 people held at the camp for more than two years
'States with nationals in al-Hol must take meaningful action to end the horrors at the camp' - Diana Semaan
 
Amnesty International is calling for the Syrian Kurdish authorities controlling al-Hol displaced-persons camp in north-west Syria to launch an urgent investigation into yesterday's shooting incident which killed at least one child and injured three women. 
For reasons that remain unclear, the Syrian Kurdish Autonomous Administration's police force (the Asayish) opened fire on women and children inside the Annex, a section in the sprawling camp. 
According to individuals with knowledge of the situation in the camp, the Annex hosts women and children from third countries (other than Iraq).
Since 2019 when the conflict with ISIS ended, an estimated 60,000 Syrians, Iraqis and third-country nationals - mostly women and children - have been detained in al-Hol camp without access to due process, according to the UN Office of the High Commissioner for Human Rights. The camp houses individuals with varying degrees of affiliation with ISIS, but also thousands of individuals with no association at all who originally flocked to the camp fleeing the conflict.
For the past two years, children in al-Hol camp have been living in horrific conditions, without proper access to food, clean water, healthcare or education. The Autonomous Administration has arbitrarily detained 12-year-old boys, separated two-year-old children from their caregivers, and severely curtailed access to healthcare. Amnesty is calling on the authorities to release all children arbitrarily detained and end the practice of separating children from their mothers and caregivers. 
The international community must support the Autonomous Administration in protecting the lives and rights of children in al-Hol camp and ensure that Syrian children, their mothers and caregivers are able to return to safety.
Diana Semaan, Amnesty International's Syria researcher, said:
"The death of a child in al-Hol sends a chilling reminder to the world of the harrowing conditions in which tens of thousands of children have been living for years. 

"Shameful international inaction towards the fate of these children has consequences. In this case it has resulted in children being shot.

"States with nationals in al-Hol must take meaningful action to end the horrors at the camp and repatriate the tens of thousands of children living there. 

"Governments must stop ignoring their international human rights obligations and take all measures to uphold the right of every child to life, survival and development."