Syria: COVID-19 'could spread quickly' in inhumane prisons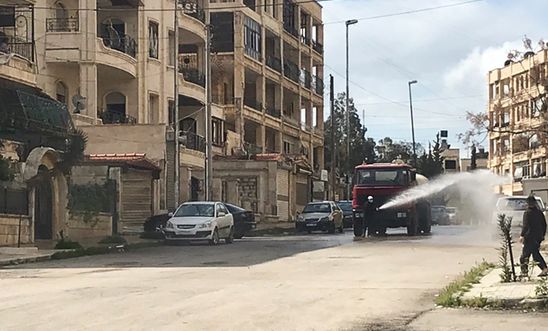 An anti-coronavirus disinfecting truck in the government-controlled city of Latakia yesterday © Russian Defense Ministry/TASS/Getty
Former inmates told Amnesty they were held in cells with bodies of deceased detainees for days
Untrustworthiness of Government information means virus spread might be more extensive than reported 
'This Government has a long record of denying prisoners and detainees the medical care and medicines they urgently need' - Lynn Maalouf
The Syrian authorities must cooperate fully with UN agencies and humanitarian organisations to prevent the spread of COVID-19 in the country's prisons, detention centres and military hospitals, said Amnesty International today.
 
Prisoners and detainees - including tens of thousands of people arbitrarily detained or forcibly disappeared - are at risk of contracting the disease as they are held in unhygienic conditions in locations across the country operated by Government security forces.
According to the Syrian Ministry of Health, as of yesterday there had been two deaths from coronavirus, with ten people acknowledged as having contracted the disease.
In a blog post earlier this month, Amnesty raised concerns over the Syrian Government's untrustworthiness, warning that accurate information about the extent of coronavirus in the country is likely to be difficult to establish. 
Lynn Maalouf, Amnesty International's Middle East Research Director, said: 
"In Syrian prisons and detention centres, COVID-19 could spread quickly due to poor sanitation, lack of access to clean water and severe overcrowding.
 
"This Government has a long record of denying prisoners and detainees the medical care and medicines they urgently need. Anyone detained must have access to prevention and treatment services as the COVID-19 pandemic threatens lives.
 
"All prisoners of conscience - political activists, human rights defenders, and others imprisoned solely for peacefully exercising their rights - must be immediately and unconditionally released.

"The early or conditional release of prisoners at high risk, such as older prisoners or those with serious medical conditions, should also be considered."
100,000 detained or missing
Since the start of the crisis in Syria in 2011, anyone perceived to oppose the Syrian Government is at risk of being arbitrarily detained - or forcibly disappeared - and subjected to torture and other ill-treatment, in many cases leading to death in custody. According to a UN estimate from last year, some 100,000 people are currently detained, abducted or missing in Syria.
 
Amnesty has documented the arbitrary detention and enforced disappearance of scores of people targeted for their peaceful activism. Others were detained by security forces because they are relatives of wanted people who fled the country, or after being reported by informers on false accusations.
 
Amnesty has extensively documented inhumane conditions in military prisons in Syria, including Saydnaya and other detention centres. These conditions include severe overcrowding in cells; lack of access to medicine and medical treatment; and lack or inadequate access to sanitation, food and water. Former inmates have also told Amnesty that they were held in cells with bodies of deceased detainees for several days. Others said that they were subjected to torture and ill-treatment.
 
Amnesty believes the Syrian Government's systematic use of torture and the mass deaths of detainees in custody across detention facilities in Syria amount to crimes against humanity.