Steven Sotloff killing is 'tip of the iceberg' of Islamic State crimes in Syria and Iraq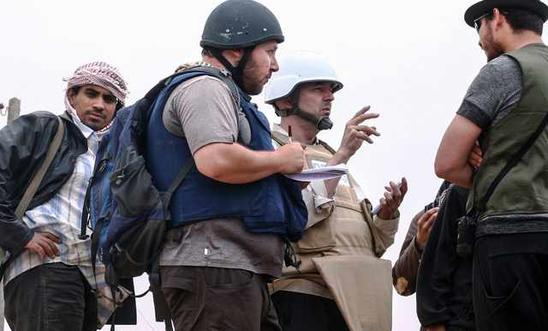 US journalist Steven Sotloff (second from left) © 2014 Etienne de Malglaive
'The execution of Steven Sotloff is a war crime' - Philip Luther
Amnesty International has condemned the Islamic State's killing of the US journalist Steven Sotloff as a war crime, while warning that the murder is just the "tip of the iceberg" in terms of war crimes being committed by Islamic State militants across Syria and Iraq.
A video published online yesterday by Islamic State showed Steven Sotloff, who was abducted in northern Syria in August last year, being killed in the same manner as fellow US freelance reporter James Foley last month.
Amnesty International Middle East and North Africa Director Philip Luther said:
"The execution of Steven Sotloff is a war crime, and it follows a pattern of other shocking atrocities carried out by the Islamic State in recent months.

 

"The world has rightly condemned the brutal deaths of Steven Sotloff and James Foley. These unjustifiable killings are, though, merely the tip of the iceberg when it comes to abuses by the IS in Syria and Iraq

 

"Efforts must also be made to seek justice for the hundreds of other victims of the Islamic State's crimes, and to protect the minority groups that remain most at risk from their attacks."
The killing of Sotloff, which the US authorities today said they had "authenticated", follows summary killings by the Islamic State of hundreds - if not thousands - of others in the region this year. Victims include members of ethnic and religious minority communities, soldiers and policemen, as well as other journalists.
Some 150 captured Syrian government army soldiers were killed after the Islamic State took control of the Tabqa airbase in north-east Syria on 24 August. Dozens of other Syrians, including children, have been killed by the Islamic State in public places already this year for a range of "crimes".
Meanwhile, in Iraq, several hundred captured government soldiers were summarily killed in Tikrit after the Islamic State seized the city in June. The Islamic State has also carried out summary killings targeting ethnic and religious minorities, including those of hundreds of Yezidi villagers in the Sinjar region last month - some in mass killings. 
Ethnic cleansing
An Amnesty briefing - Ethnic cleansing on a historic scale: the Islamic State's systematic targeting of minorities in northern Iraq - published yesterday indicated that the Islamic State has launched a systematic campaign of ethnic cleansing in northern Iraq. The briefing documented war crimes that especially targeted ethnic and religious minorities, including mass summary killings and abductions. The ethnic and religious minorities targeted in northern Iraq include, in addition to members of the Yezidi faith, Assyrian Christians, Turkmen Shi'a, Shabak Shi'a, Kakai and Sabean Mandaeans.  Many Sunni Arabs known or believed to oppose the Islamic State have also been targeted in northern Iraq.