Stansted 15 verdict is 'crushing blow' for human rights in the UK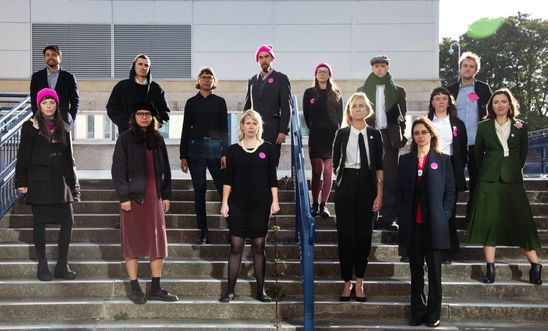 The 15 human rights defenders always insisted they were acting to prevent what they believed was an unlawful deportation © Kristian Buus
'This whole case will send a shiver down the spine of anyone who cares about the right to protest in our country' - Kate Allen
Following guilty verdicts today in the case of 15 people tried in relation to their attempt to prevent what they believed was the unlawful deportation of a group of people at Stansted Airport last year, Amnesty International has reiterated its strong concern over the decision to charge the human rights defenders with a terrorism-related offence. 
The 15 people - known as the "Stansted 15" - took non-violent direct action at Stansted in March 2017 to prevent the deportation of 60 people on a charter flight bound for Ghana and Nigeria.
The Stansted 15's actions prevented the flight from leaving. Of the 60 individuals due to have been deported, ten are currently pursuing asylum claims in the UK, and at least one has since been granted permission to remain in the UK.
Initially the Stansted 15 were charged with aggravated trespass, but four months later this was changed to "endangering safety at aerodromes" - a serious terrorism-related charge which can lead to a life sentence. 
Ahead of the trial, which began at Chelmsford Crown Court on 1 October, Amnesty wrote to the Director of the Crown Prosecution Service and the Attorney General calling for the "endangering safety at aerodromes" charge to be dropped, expressing concern that it may have been brought to discourage other activists from taking non-violent direct action in defence of human rights. Amnesty attended the trial proceedings daily.
Amnesty has launched a solidarity campaign with the 15 who are now facing possible lengthy prison sentences.
Kate Allen, Amnesty International UK's Director, said:
"This is a crushing blow for human rights in the UK.

"The terrorism-related charge against these individuals was always a case of using a sledgehammer to crack a nut.

"It's deeply disturbing that peaceful protesters who caused disruption but at no time caused harm to anyone, should now be facing a possible lengthy prison sentence. 

"This whole case will send a shiver down the spine of anyone who cares about the right to protest in our country.

"Around the world, human rights defenders are coming under increasing attack. The UK should not be bringing such severe charges against those who seek to peacefully stand up for human rights."
Sentencing will take place in February.