Srebrenica: UN failure to pass genocide resolution 'insult to the memory of the dead'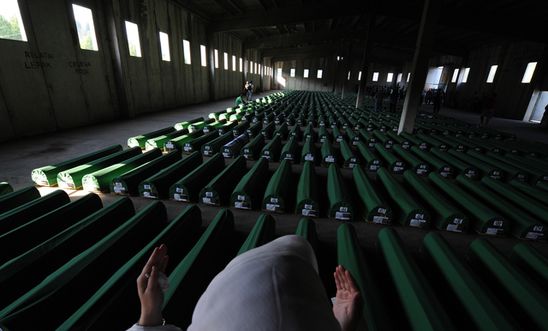 A Bosnian Muslim woman prays in front of 520 caskets ahead of a mass burial ceremony at the Srebrenica Memorial Cemetery in 2012 © AFP/Getty Images
'The denial of genocide is betraying the suffering of victims and their families' - John Dalhuisen
Russia's veto today of a UN Security Council resolution on the Srebrenica genocide is an affront to the families of the victims of the massacre and will hinder attempts at reconciliation between the communities of Bosnia and Herzegovina, said Amnesty International.
Amnesty International Europe and Central Asia Director John Dalhuisen said
"The massacre of more than 8,000 Muslim men and boys at Srebrenica in July 1995 revealed the tragic flaws in the UN's response to the Bosnian war. Twenty years on, the UN Security Council's failure to recognise the killings as genocide is an insult to the memory of the dead.

 

"This resolution was about much more than just recognising Srebrenica as a genocide. It was also about the acknowledging the urgent need to provide justice to the victims and long-term support to survivors - including survivors of sexual violence - and clarifying the fate and whereabouts of the over 8,000 still missing from the war. 

 

"We welcome that the United Kingdom, leading the negotiations on the draft resolution, and other Security Council members supporting the text, stood firm on the need to recognise that the events 20 years ago in Srebrenica constituted genocide. This is a prerequisite for reconciliation, and the denial of genocide is betraying the suffering of victims and their families."
Amnesty will be issuing a press release on Srebrenica on 10 July.