Sierra Leone: Preventing pregnant girls from taking exams is discriminatory warns Amnesty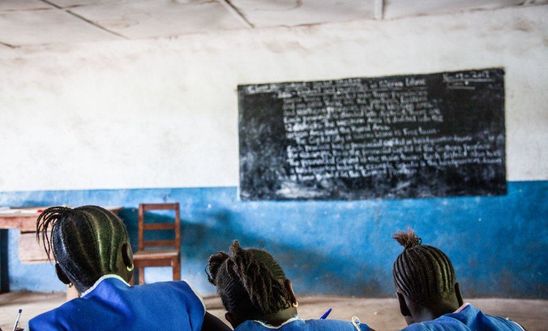 Girls in school © William Vest-Lillesoe/IBIS
"This is the latest blow for girls in Sierra Leone who have already faced so much" – Naomi McAuliffe
The suggestion that pregnant girls across Sierra Leone will be excluded from taking school exams will do nothing but damage their education and limit their chances to improve their lives, said Amnesty International as it urged Sierra Leone to review its decision.
Last week Sierra Leone's Education Minister Minkailu Bah said that visibly pregnant girls could be banned from taking their exams, claiming they would provide a bad example to other girls. Passing the exams is a requirement to progress from junior to senior high school. 
Schools have been closed for eight months due to the Ebola outbreak, and during that time girls have had less access to reproductive health services or clinics, have been under more pressure to have sex for goods or money, and have been at increased risk of sexual violence. 
Even before the Ebola outbreak, teenage pregnancy rates in Sierra Leone were high.  In 2013 statistics confirmed that 28% of all girls aged between 15 and 19 had already had children or were pregnant.  
Amnesty has written to the British High Commission in Sierra Leone and the Sierra Leonean High Commission in the UK expressing concern that this discriminatory policy which would violate girls' fundamental right to education. 
Amnesty International's West Africa Researcher Sabrina Mahtani said:  
 

"The government should be striving to get more girls into school, not turning them away at the door. Girls must not have their right to education and their hopes of a better life dashed because of an early, and in some cases, unwanted pregnancy."
Over recent months girls have had little or no access to post-rape care services including access to emergency contraception to prevent pregnancy. There are reports that during the quarantines there was an increase in sexual violence. 
Amnesty International UK's My Body My Rights Campaign Manager Naomi McAuliffe said: 
"This is the latest blow for girls in Sierra Leone who have already faced so much. For many of them, their families and livelihood has been devastated because of Ebola.

 

"This discriminatory policy is just another cruel twist which further reduces these girls' attempts to build a stable and more prosperous life for themselves and their families.

 

"We strongly urge Sierra Leone to review this decision and to enable all girls the chance to take their exams and attend school. Their future depends on it." 
Schools are due to reopen in April, and it is not known whether or not pregnant girls will be allowed to attend. 
Background 
A March 17 article quotes the Minister as saying the pregnant girls' "presence in the classroom would serve as a negative influence to other innocent girls".