Shortlist for Amnesty's Media Awards 2016 announced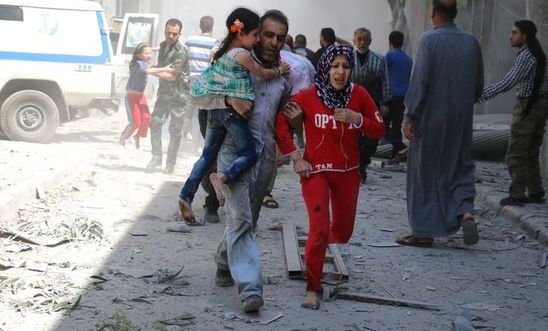 Reporting from Syria is both dangerous and essential © Ameer Alhalbi/AFP/Getty Images
Amnesty International has today unveiled the shortlist for its prestigious annual Media Awards, now in its 25th year.
The ten categories included in the 2016 Amnesty Media Awards celebrate the best human rights reporting across all genres - broadcast, multimedia, print and photography (see the full set of shortlists below).
Other awards include The Gaby Rado Award for Best New Journalist (courtesy of SOAS, University of London), and a Student Award for those even newer to journalism. 
Amnesty's awards recognise excellence in human rights reporting and acknowledge journalism's significant contribution to the UK public's awareness and understanding of human rights issues. The winners of this year's awards will be announced at an event in central London on Tuesday 29 November.
This year's awards were extremely competitive and Amnesty received well over 200 entries across the ten categories, with the documentary and feature categories each receiving over 40 entries.
Past award winners include Mike Thomson, Marie Colvin, Channel 4's Dispatches, Christina Lamb, Sue Lloyd-Roberts, Robert Fisk and Marie Claire magazine, among many others.
Amnesty International UK Director Kate Allen said:
"This year we're marking 25 years of the Amnesty media awards and it's extremely heartening to see the breadth and depth of the entries to the 2016 Amnesty Media Awards.

"A sure sign of any healthy democracy is a fearless and inquiring press.

"These awards are a way of recognising the extraordinary courage and skill of some of the world's best journalists.
The shortlist
Documentaries
BBC Our World, The Killing of Farkhunda
Assassin Films for BBC Storyville, India's Daughter (Leslee Udwin)
ITV, Saudi Arabia Uncovered (James Jones)
Judges: Eammon Matthews, Naresh Puri, James Rogan, Beatrice Rubens, Sharron Ward
Gaby Rado Award
Maeve McClenaghan, Freelance
Waad Al Kateeb, Channel 4 News
Rossalyn Warren, BuzzFeed News
Judges: Oly Duff, Cathy Newman, Natalie Watson, Zubeida Malik, Naomi Westland
Features
AA Gill, Sunday Times Magazine, They'll Smuggle Anyone Across The River
Annie Kelly & Mei-Ling McNamara, The Guardian, A Slave in Scotland: I Fell Into A Trap And Couldn't Get Out
Sophie McBain, New Statesman, A Second Life
Judges: Decca Aitkenhead, Steve Bloomfield, Stuart McGurk, Victoria Harper
Multimedia
BBC Media Action, Your Phone Is Now A Refugee's Phone
The Guardian, 6 x 9: A Virtual Experience Of Solitary Confinement
The Guardian, The County: the story of America's deadliest police
Judges: Berry Cochrane, Laurie Hanna, Marguerite Howell, Wendie Ottewill
Nations and Regions
BBC Spotlight NI, Missing
The Detail, Abortion Exported: The Women Travelling For Terminations
Herald Magazine, Syria: The Exodus
Judges: Sangeeta Bhabra, Patrick Corrigan, Wesley Johnson, Sarah Smith
News
Emma Graham-Harrison, The Observer, The World Looks Away As Blood Flows In Burundi
Oliver Holmes & Tom Phillips, The Guardian, Gui Minhai: The Strange Disappearance Of A Publisher Who Riled China's Elite
Anthony Loyd, The Times, His Special Beheading Knife
Judges: James Ball, Niall Couper, Tracy McVeigh, Hannah Strange, Joel Taylor
Photojournalism
Robin Hammond, Where Love Is Illegal, Sunday Times Magazine 
Andrew Testa, Migrant Crisis Special, Sunday Times Magazine
Daniella Zalcman, Signs Of Your Identity, National Geographic 
Judges: Marcus Bleasdale, Andrea Kurland, Russ O'Connell, Maggie Paterson
Radio
BBC Radio 4, A New Life in Europe
BBC World Service, Stealing Innocence In Malawi
RTE Radio 1, Documentary On One: Cairo Cellmates 
Judges: Louise Orton, James Rea, Roger Sawyer, Mike Wooldridge
Student 
Emmanuel Odafe, Slum Dwellers
Temitope Kalejaiye, Almajiri is Begging
Areej Zayat, Palmyra
Judges: Kathryn Bromwich, Richard Brooks, Louise Orton, Elizabeth Pears
TV News
BBC News, One Girl's Journey: The story of Nujeen Mustaffa
Channel 4 News, Agony of Aleppo 
CNN, Undercover in Syria
Judges: Eulette Ewart, Nevine Mabro, Camilla Mankabady, Paul Royall, Dominic Waghorn