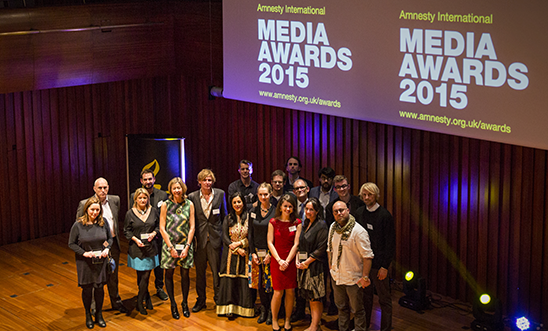 Journalists have always played a vital part in uncovering abuses and corruption around the world.
That's why we honour and recognise the courageous work they do, and the serious risks they take with our annual Media Awards.
Now in its 25th year, the Awards recognise excellence in human rights reporting and acknowledge journalism's significant contribution to public awareness of human rights issues.
Our winners are often at the forefront of breaking news and exposing human rights abuses around the world and have included journalists from Channel 4 News, GQ, The Sunday Times, The Herald and ITV News.
The categories
We're looking for entries from a diverse range of media outlets in the following categories:
Best student journalist – run in collaboration with National Union of Students and The Observer
Documentary – programmes given a UK TV or theatrical screening
Features – magazine or newspaper content that creatively explores topics, issues or stories relating to human rights.
Multimedia – websites, apps or interactive online news or feature-based reporting
News – a news article or series of articles published in a UK national newspaper or website
Nations and regions – print, online or broadcast entries from Scotland, Wales, Northern Ireland and the English regions
Photojournalism – for images published in the UK
Radio – one news item or a series of podcasts, or programmes broadcast to a UK audience
Television news – one news item or a series of broadcasts to a UK audience
The Gaby Rado Award for best new journalist – for journalists who have been working in broadcast, online or print media for five years or less
The judges 
Each year, the UK's finest editors, correspondents, photojournalists and documentary makers from every genre dedicate time and their professional expertise to judge the entries - this year is no exception. Confirmed judges for the 2016 Media Awards include:
Beatrice Rubens (BBC Radio)
Cathy Newman (Channel 4 News)
James Rea (LBC and Global News)
Oly Duff (The 'i')
Naresh Puri (BBC News)
Rankin (photographer and Hunger magazine founder)
Russ O'Connell (Sunday Times)
The 2015 winners
TV News
Inside Yarl's Wood: Britain's most notorious detention centre (Jackie Long, Channel 4 News)
Judges: Federico Escher, John Angier, Bridget Kendall, Anna Jones
Digital
The Counted (The Guardian)
Judges: Siraj Datoo, Kevin Sutcliffe, Jacqueline Housden, Ian Dunt
Features
The boys who could see England (Anders Fjellberg & Tomm W. Christiansen, Dagbladet/New Statesman)
Judges: David Jones, Andrea Thompson, Gary Younge, Tom Parry
Photojournalism
Tommy Trenchard: Ebola in West Africa
Judges: Tabish Khan, Shannon Jensen, Tomasina Brittain, Mark Townsend
National Newspapers
I'm afraid of the sea but I'll do anything to get out (Christina Lamb, Sunday Times)
Judges: David Wastell, Robert Yates, Sarah Sands, Hannah Strange
Radio
Red River Women (BBC Radio Current Affairs for BBC World Service)
Judges: Anna Doble, Paul Moss, Dotun Adebayo, Steve Bloomfield, Steve Wilson-Beales
Nations & Regions
A Woman Alone with the IRA (Spotlight, BBC Northern Ireland)
Judges: Nina Hossain, Yvette Shapiro, Beverley Rouse
Gaby Rado
Gabriella Jozwiak, Freelance 
Judges: Mike Thomson, Rob Hodge, Tom Rado, Naga Munchetty
Documentaries
Escape from ISIS (Dispatches, Channel 4)
Judges: Naresh Puri, Eamonn Matthews, Fiona Lloyd-Davies, Rizwana Hamid, Louise Orton
Student
Jonathan Lawrence, Child prostitution in Zarqa: a city paralysed by the mafia
Judges: Emma Graham-Harrison, Yonni Usiskin, Anant Naik