Saudi Arabia/UK: letter to PM calls for action on jailed women activists ahead of G20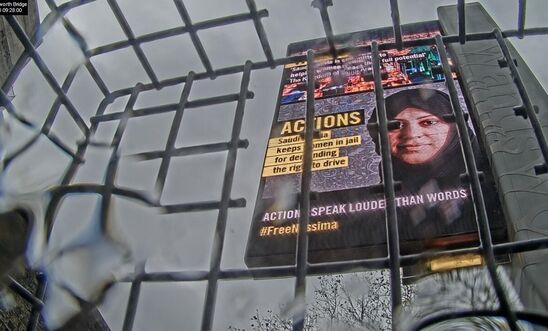 Billboard highlighting Nassima al-Sada's case on Wandsworth Bridge in central London © Amnesty International
Kate Allen letter says UK should use 'platform' of summit to call for women's release
Right-to-drive campaigners Loujain al-Hathloul and Nassima al-Sada among 13 on trial for their activism
'My mother is strong' - Mousa, son of detained activist Nassima al-Sada
'The Prime Minister should call the Saudis' bluff' - Kate Allen
Ahead of the G20 meeting being hosted by Saudi Arabia later this week (21-22 November), Amnesty International has written to Boris Johnson calling on him to use the "platform" of the international summit to call for the release of a group of jailed Saudi women's rights activists. 
In a letter to the PM, Amnesty UK Director Kate Allen welcomes the fact that the Government has previously called for the women's release as part of joint statements at international forums, but says the UK should take a "stand" at the G20 (which is being held as a virtual event because of coronavirus).
Following a major crackdown in May 2018, 13 Saudi women's rights defenders have been put on trial on charges related to their peaceful activism. 
The group - who include prominent right-to-drive campaigners Loujain al-Hathloul and Nassima al-Sada - are accused of "promoting women's rights" and "calling for the end of the male guardianship system". Some are also accused of having contacted foreign diplomats or international organisations, including Amnesty. At least ten of the activists have reportedly been tortured, with some suffering sexual abuse, electric shocks and flogging.
Al-Hathloul, al-Sada and three others - Samar Badawi, Nouf Abdulaziz and Maya'a al-Zahrani - are all currently in jail, while eight others have been released on bail as the case against them continues. Al-Hathloul has been on hunger strike since 26 October in protest at the authorities' refusal to grant her regular contact with her family. She is reported to be feeling weak and exhausted and concerns for her health are growing.
Since assuming the G20 presidency, the Saudi authorities have publicised new initiatives on women's employment opportunities and claim in their presidency agenda that they are "strongly committed" to empowering women and girls. 
Last week, Saudi Arabia's ambassador to the UK, Khalid bin Bandar bin Sultan bin Abdulaziz Al Saud, indicated to the Guardian newspaper that the Saudi authorities may be considering offering clemency to the activists ahead of the G20 summit, seemingly in response to an international outcry over their treatment. Loujain al-Hathloul's sister, Lina, has dismissed the remarks as a "PR stunt".
Later this week, Amnesty will be sending a petition with nearly 30,000 signatures to Downing Street calling for the activists' release. Amnesty has also put up billboards highlighting the women's plight in several prominent locations in London, which are expected to be seen by thousands of passers-by.
Kate Allen, Amnesty International UK's Director, said: 
"The Prime Minister should call the Saudis' bluff on this - 'you say you're committed to women's rights, well show it, release these women'.

"No-one should believe the hype on Saudi Arabia - everyone needs to understand they've been cracking down hard on human rights under the Crown Prince's authoritarian rule.

"It's only two years since the grotesque murder of Jamal Khashoggi, peaceful critics have been hounded and silenced, and torture, unfair trials and executions are all rife. 

"If the UK ambassador's remarks were made in good faith, then the Saudi authorities should demonstrate that by now dropping all charges against Loujain, Nassima and the others."
Mousa al-Sada, Nassima al-Sada's 27-year-old son, a student living in exile in the Netherlands, said: 
"My mother is strong. She knows all her sacrifices were not for nothing and that the hardships of prison will result in good things for women in our country and beyond."
Expensive PR campaigns
In recent years, the Saudi authorities have sought to reshape their image through expensive PR campaigns presenting Crown Prince Mohammed bin Salman as a reformer. This has coincided with a major move into hosting high-profile sporting events, which Amnesty has labelled "sportswashing". In June 2018, the country's ban on women driving was officially lifted, a much-publicised move which was presented as evidence of progress. Yet in the preceding weeks, many of Saudi Arabia's most prominent advocates for women's right to drive were arrested and detained.
Executions at record level
Saudi Arabia executed 184 people last year. Only two countries in the world - China and Iran - executed more people during 2019. Some of the executions in Saudi Arabia were clearly a political weapon used against dissidents from the country's Shi'a Muslim minority. For example, on 23 April 2019, there was a mass execution of 37 people, 32 of them Shi'a men, many of whom were convicted on "terrorism" charges after trials that involved confessions extracted through torture. For more information on the human rights situation in Saudi Arabia, go here.
People's Vision For Reform
Ahead of the G20, a group of Saudi Arabian human rights activists and academics have launched a People's Vision for Reform, which they describe as a "policy blueprint" for Saudi civil society, and a means, as they see it, of addressing "flaws" in the country's official Vision 2030 plan.