Saudi Arabia's crackdown on women's rights - a year on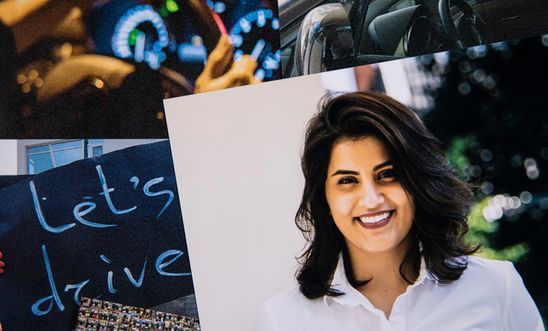 One of those detained is Loujain al-Hathloul, a leading Right2Drive campaigner © Marieke Wijntjes
Expert panel will discuss plight of Loujain al-Hathloul and others, and the wider implications for countries like the UK 
On Wednesday 15 May, Amnesty International UK and the Saudi Arabia-focused campaign organisation ALQST are hosting an event to mark the one-year point since a group of prominent women's rights activists were arrested in Saudi Arabia.
On 15 May 2018, a number of prominent women human rights defenders in Saudi Arabia - including Loujain al-Hathloul, Iman al-Nafjan and Aziza al-Yousef - were detained for their peaceful human rights work. 
The arrests, coming just weeks before the much-publicised lifting of the country's ban on women being allowed to drive, were followed by further round-ups and multiple reports that some of the detainees were tortured. Eleven activists were put on trial in March, charged with promoting women's rights and calling for an end to the country's notorious male guardianship system. The women were also charged over their contact with international organisations - including Amnesty - as well as foreign media and other activists.
The 15 May event, being held at Amnesty's east London headquarters, will see an expert panel discussing the crackdown on Saudi women's human rights defenders and its wider implications for Saudi Arabia as well as for countries - including the UK - with significant diplomatic, economic and military relations with Saudi Arabia.
DETAILS
What: panel discussion with audience Q/A
Who: 
Layla Moran MP (chair) - member of the Detention Review Panel for Women Activist Detainees in Saudi Arabia 
Safa Al Ahmad - award-winning Saudi journalist and filmmaker
Dana Ahmed - Saudi Arabia Researcher, Amnesty International
Taif Alkhudary - Legal Officer, MENA Rights Group
Melanie Gingell - lawyer and Board Member of Gulf Centre for Human Rights
Where: Amnesty International UK, 17-25 New Inn Yard, London EC2A 3EA (Shoreditch)
When: Wednesday 15 May 2019, 5pm 
Cost: free - though please reserve a place here.