Saudi Arabia: Lina al-Hathloul calls for UK Government to help jailed sister Loujain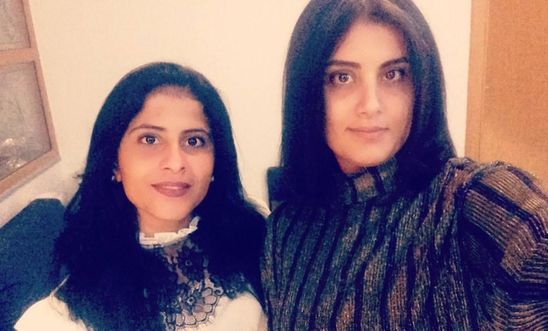 Lina al-Hathloul (left) is calling on the UK to speak out about her sister's plight in the grassroots campaign for women to be allowed to drive in the Kingdom © Private
Two-year anniversary of lifting of infamous women driving ban, yet leading women's rights activist Loujain al-Hathloul and 12 others face long prison sentences
Lina al-Hathloul says sister is 'being punished for daring to drive' and calls for UK Government to intervene
Amnesty's 'Beep' campaign comes as Saudi buyout of Newcastle United remains on table
'The Premier League should speak out about the plight of Loujain and her fellow activists' - Kate Allen 
The sister of a jailed Saudi women rights campaigner has called on the UK Government to use its "power and influence" to help secure the human rights defender's release. 
Lina al-Hathoul made the call today on behalf of her sister Loujain al-Hathloul, one of 13 Saudi women's rights activists currently on trial for their peaceful campaigning activities.
Loujain rose to international prominence with a high-profile campaign to win the right for women in Saudi Arabia to be able to drive.
Today (24 June) marks the two-year point since Saudi women were finally granted the right to drive, an event marked with fanfare by the Saudi authorities who sought to present it as evidence of ongoing "reform". Up until 24 June 2018, Saudi Arabia had been the only country in the world to prevent women from driving, jailing some of those who defied the ban.
Amnesty International UK has launched a "Beep for freedom" campaign in support of the persecuted women's rights defenders. The Beep solidarity campaign involves supporters sharing photos of themselves behind the wheel of a car or sharing the campaign's "Beep For Freedom" car horn symbol, with an appeal to the Saudi authorities to "immediately and unconditionally" release the activists and drop all charges against them. Throughout Wednesday (24 June), solidarity messages are being posted on social media with the hashtag #BeepForFreedom. An Amnesty petition calling for the activists' release has already gained the support of more than 40,000 people. 
Alongside Al-Hathloul, the Saudi authorities are currently holding women's rights activists Samar Badawi, Nassima al-Sada, Nouf Abdulaziz and Maya'a al-Zahrani. These and eight other women's rights activists are on trial, charged - among other things - with promoting reforms and women's rights, demanding an end to the male guardianship system, and contacting international human rights organisations such as Amnesty.
At least ten of the activists have reportedly been tortured, with some suffering sexual abuse, electric shocks and flogging. Medical treatment has also reportedly been denied to detainees at al-Ha'ir prison, where Al-Hathloul and some of the activists are held. (For more information, see page 24 of this link). 
Lina al-Hathloul, Loujain al-Hathloul's sister, said: 
"I have one very simple question - what has my sister done to deserve this?
"What has Loujain done to deserve arrest, solitary confinement, torture and now a trial which could see her stuck behind bars for years?

"My sister is being punished for daring to drive, for daring to challenge the sexism and gender discrimination of Saudi society, and for who she is: a heroic person.

"I hope the UK Government doesn't forget about my sister's suffering - it must speak up and use its power and influence to publicly call for her release."
Kate Allen, Amnesty International UK's Director, said:
"The Saudi authorities are punishing these women for their independence, their bravery and their wish for freedom - nothing more. 

"Apparently, the Crown Prince wanted all the glory for lifting the driving ban and couldn't bear to credit Loujain and her fellow campaigners with anything.

"Our Beep for Freedom campaign is a gesture of defiance and of resolute solidarity with Saudi women rights defenders. 

"The UK Government needs to publicly call for the immediate and unconditional release of these brave activists - and for all charges against them to be dropped. 

"With the Saudi buyout of Newcastle United still up in the air, we're also saying that the Premier League should speak out about the plight of Loujain and her fellow activists."
Possible buyout of Newcastle United 
The two-year anniversary of the lifting of the driving ban in Saudi Arabia comes at a time when the country's human rights record is the subject of heightened interest in relation to the possible purchase of Newcastle United football club by a consortium of buyers including Saudi Arabia's Public Investment Fund.
Amnesty has written to the Chief Executive of the football Premier League, Richard Masters, warning that the proposed deal is part of Saudi Arabia's ongoing efforts to "sportswash" its human rights record, with investment in the glamour and prestige of top-level sport being used as a way to "rebrand" the country and deflect attention away from human rights issues. 
Warning that the Premier League risks "becoming a patsy" of these sportswashing efforts unless it fully considers the human rights situation in Saudi Arabia as part of the Premier League's owners' and directors' test, Amnesty has urged the Premier League to make a statement over how it is assessing Saudi Arabia's human rights record under Mohammed bin Salman as part of its determination of the Newcastle deal.
For more information on the human rights situation in Saudi Arabia, go here.