Saudi Arabia: blogger Raif Badawi still held in jail after serving his ten-year sentence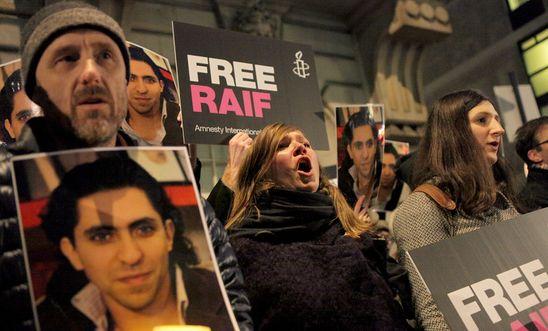 Protesters outside the Saudi Arabia Embassy in London in 2015 © Amnesty International
Human rights defender was flogged 50 times in a public square in Jeddah in 2015
Authorities have trumpeted 'reforms' in Kingdom while Badawi has languished in jail 
'Raif Badawi has spent a decade behind bars solely for exercising his right to freedom of expression' - Heba Morayef
Responding to news that the Saudi Arabian blogger Raif Badawi remains in detention despite having completed an unjust ten-year prison sentence earlier this week (1 March), Amnesty International's Regional Director for the Middle East and North Africa, Heba Morayef said:
"Raif Badawi's ongoing detention reveals the Saudi Arabian authorities' utter contempt for the right to liberty, freedom of expression and even their own laws. 

"Raif Badawi has spent a decade behind bars solely for exercising his right to freedom of expression. 

"The Saudi Arabian authorities must ensure his immediate and unconditional release and lift the unlawful travel ban imposed on him so he can finally reunite with his family.

"The Saudi Arabian authorities' crackdown on civil society and freedom of expression must end. Raif Badawi and all prisoners of conscience detained solely for peacefully exercising their human rights must be released immediately and unconditionally."
Heavy sentence included 1,000 lashes
Raif Badawi - a prominent blogger and Saudi human rights defender - has been arbitrarily detained solely for peacefully expressing his opinions. He was arrested on 17 June 2012 and sentenced in 2014 to ten years in prison - to be followed by a ten-year travel ban and a £200,000 fine - for creating an online forum for public debate. Among other things, Badawi was accused of having insulted Islam. 
Badawi's case came to wide international attention after he was lashed 50 times in a public square in Jeddah on 9 January 2015, part of an additional sentence of 1,000 lashes.
Over recent years, the Saudi Arabian authorities have invested heavily in PR efforts to rebrand their image and attempt to deflect attention from their brutal crackdown on activists and human rights defenders. Although there was a brief lull in executions and prosecutions of activists during Saudi Arabia's presidency of the G20 summit in late 2020, that ended immediately after the event when the authorities ramped up their repression once again.