Russian Embassy, London: giant Rainbow flag to be laid at embassy steps in Chechnya 'gay purge' protest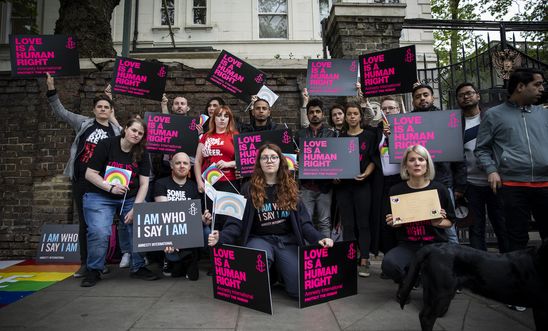 A campaigner outside the Russian Embassy in London after the purge of 2017 © Amnesty International
They will also lay 40 multicoloured 'rainbow roses' on embassy steps
65,000-signature petition calling for justice after two 'purges' in Chechnya
Event takes place on International Day against Homophobia, Biphobia, Intersexsim and Transphobia
'The whole world's been shocked by the purge in Chechnya' - Ellie Kennedy
Activists from Amnesty International and Stonewall will take a petition to the Russian Embassy in central London this Friday (17 May, 10am) calling on the Russian authorities to investigate abuses against LGBTI people in the southern Russian republic of Chechnya.
The 65,000-signature petition - being handed in on International Day against Homophobia, Biphobia, Intersexsim and Transphobia (IDAHOBIT) - comes in response to a second "purge" of LGBTI people in the region late last year.
In December, the Russian LGBT Network received reports that approximately 40 LGBTI individuals had been detained in a government building in the Chechen town of Argun, where they were subjected to torture and other ill-treatment. This came after a notorious crackdown in April 2017, when more than 100 men thought to be gay were abducted, tortured - and in some cases killed - in Chechnya in what appeared to be a coordinated purge.
During the past two years, the Russian LGBT Network has helped dozens of gay and lesbian people escape from Chechnya, where the authorities have failed to hold anyone to account for these crimes. The theme of IDAHOBIT in 2019 is "justice". 
The Amnesty and Stonewall activists - who will be joined by Rainbow RU, a London-based Russian community - will attempt to lay a giant rainbow flag on the steps of the Russian Embassy at approximately 10.15am. 
They will also lay 40 multicoloured "rainbow roses" to in solidarity with the 40 people detained ast year. Meanwhile, activists will hold aloft numerous placards declaring "Love is a Human Right".
Ellie Kennedy, Individuals at Risk Campaigner at Amnesty International UK, said: 
"The whole world's been shocked by the purge in Chechnya and it's unforgivable that nothing's been done about it - either by the Chechen or the Russian federal authorities. Our petition is demanding action and we absolutely need to see that."  
Leanne MacMillan, Director of Global Programmes at Stonewall, said: 
"We are extremely concerned by the continuing persecution of LGBT individuals in the Russian republic of Chechnya, and strongly condemn this violence. Along with Amnesty, we are calling for the Russian authorities to end this persecution immediately and bring the perpetrators to justice. We are also calling for torture survivors to be offered sanctuary in the UK."
Who:
Ellie Kennedy, Individuals at Risk Campaigner at Amnesty International UK
Robbie de Santos, Head of Campaigns at Stonewall
Members of Rainbow RU
Where: Russian Embassy, 6-7 Kensington Palace Gardens, London W8 4QP
When: Friday 17 May 2019, 10am
What: giant flag protest and petition hand-in 
Homophobia in Russia
State-sponsored discrimination and persecution of LGBTI people is widespread in Russia, where a homophobic "propaganda law" is actively enforced. Despite widespread international alarm at the reports in 2017 of an LGBTI purge in Chechya, the Chechen and Russian authorities reacted with denials. A spokesman for the head of the Chechen Republic Ramzan Kadyrov even denied that LGBTI people exist in Chechnya, saying "nobody can detain or harass anyone who is simply not present in the republic".