Russia: troop deaths decree is 'blatant attack on freedom of expression'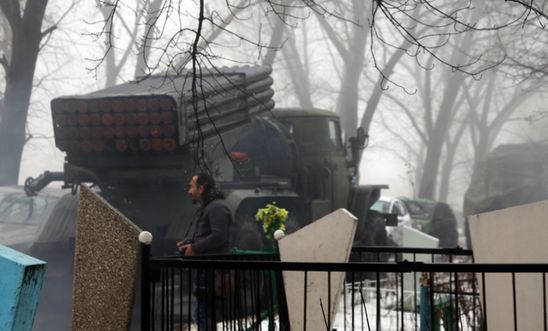 A Grad rocket launcher in front of a cemetary in the eastern Ukrainian city of Donetsk earlier this year © ALEXANDER GAYUK/AFP/Getty Images
Move 'will intensify speculation President Putin has something to hide' - John Dalhuisen
A decree signed yesterday by Russian President Vladimir Putin making deaths of Russian forces "in peacetime" a state secret is yet another attack on freedom of expression in the country, Amnesty International has said.
The new decree, which bans all information about losses of Russian troops "during special operations" in peacetime, comes amid longstanding accusations  - despite Kremlin denials - that President Putin has sent military assistance to separatists in eastern Ukraine.   
Until yesterday, only losses of Russian troops during war were considered a state secret. 
Amnesty International Europe and Central Asia Director John Dalhuisen said: 
"Not only is this decree a blatant attack on freedom of expression, it also has sinister undertones that will intensify speculation President Putin has something to hide - specifically losses incurred by Russia's military in Ukraine.

 

"This new decree raises some disturbing questions, such as whether journalists and civil society activists reporting on alleged losses in Ukraine in future might be criminally prosecuted for treason.

 

"The move also increases fears for the safety of Russian media workers and civil society activists who have already faced harassment for trying to independently cover the conflict in Ukraine.

 

"It also means families of soldiers killed during 'special operations' will be deprived of the truth about the fate of their loved ones." 
Clampdown on Russian media
The Russian government has tightened its control over mainstream Russian media in recent years, with several media outlets and journalists targeted over their coverage of the Ukraine conflict. Last August, several journalists were assaulted in separate incidents as they attempted to report on secretive funerals of Russian military servicemen allegedly killed in Ukraine. In one attack on 29 August, Lev Shlosberg, publisher of Pskovskaya Guberniya - the first newspaper to report on the secret funerals - was brutally beaten and hospitalised with head injuries. A subsequent police investigation failed to identify his three assailants.