Russia: Siberian shaman who marched against Putin confined indefinitely in psychiatric hospital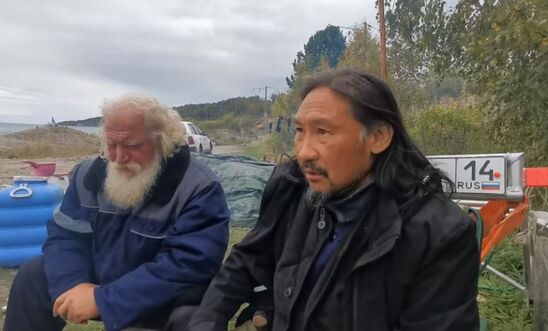 Aleksandr Gabyshev (r) embarked on an epic walk from Yakutsk to Moscow to 'purge' Putin in 2019 © Александр Габышев Шаман / YouTube
Aleksandr Gabyshev embarked on epic walk from Yakutsk to Moscow in 2019
Detention in psychiatric hospitals was a common Soviet-era tactic used against dissidents 
'The authorities are using "psychiatric care" as a punishment' - Natalia Zviagina
Responding to a court decision which came into force today to confine Siberian shaman Aleksandr Gabyshev in a psychiatric hospital for an indefinite period for vowing "to purge" Vladimir Putin from the Kremlin, Natalia Zviagina, Amnesty International's Moscow Office Director, said:
"Once again, the authorities are using 'psychiatric care' as a punishment - a method tried and tested during Soviet times.  

"Aleksandr Gabyshev has become a symbol of grassroots resistance to the increasingly repressive government of Vladimir Putin.

"It is genuinely shocking to see how easily the life of someone who dares to peacefully express their views and criticise the authorities is destroyed by the powerful and repressive tools of the state. 

"Compulsory psychiatric treatment is a form of torture.

"The authorities must refrain from any involuntary therapy and release Aleksandr Gabyshev immediately and unconditionally, as he has been sentenced to indefinite compulsory psychiatric treatment solely for peacefully exercising his right to freedom of expression. 

"The use of punitive psychiatry as a method to silence dissent must stop now."
Epic walk from Yakutsk to Moscow
On 26 July, the Yakutsk City Court ruled that Aleksandr Gabyshev must be confined indefinitely to a psychiatric hospital for compulsory "intensive" treatment. Today, an appeal by Gabyshev was unsuccessful and the decision on indefinite forced hospitalisation has been upheld. The court declared Gabyshev "insane" and lacking legal capacity, and he was found guilty of "using violence against police officers" and "calling for extremism".
In 2019, Gabyshev became widely known after he embarked on a walk from Yakutsk to Moscow, promising to use his self-proclaimed magic powers to "purge" President Vladimir Putin from the Kremlin. In September 2019, after travelling approximately 1,800 miles - more than a third of the way to Moscow - he was abducted by police and accused of "public calls for extremism", then briefly placed in a psychiatric hospital for examination. 
He was released two days later, only to be forcibly hospitalised again in May 2020 - this time purportedly because he refused to be tested for Covid-19. He was released two months later after public outcry and an international solidarity campaign. In January this year, two weeks after Gabyshev announced another march on the Kremlin, 50 police officers broke into his house, arrested him and took him to a psychiatric hospital. He was charged with making "calls for extremism" and "using violence against police officers". During his arrest, Gabyshev allegedly tore a riot officer's uniform and superficially wounded him with a "batas", a ceremonial Yakut sword.