Russia: passage through Duma of 'undesirable organisations' bill strongly condemned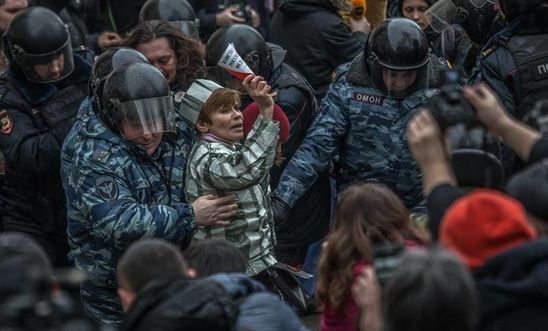 Protests have been suppressed in Russia and NGOs are facing increasing restrictions © Amnesty International
'This legislation is the latest chapter in an unprecedented crackdown against non-governmental organisations' - John Dalhuisen
Amnesty International has condemned the Russian Duma's passing of an "undesirable organisations" bill today, describing it as part of "unprecedented crackdown" against NGOs.
The bill, which passed its third and final reading in the State Duma, enables the state to ban the activities of foreign or international non-governmental organisations deemed to be undermining "state security", "national defence" or "constitutional order". It will also punish Russian activists and civil society groups for maintaining ties with "undesirable" organisations. 
Organisations whose activities are deemed a "threat" will not be able to open their offices in Russia and those that already have a presence in the country will face closure. The law also imposes a ban on disseminating materials, including through media and the internet. 
If an organisation is deemed "undesirable", it will no longer be able to arrange or participate in any projects or activities in Russia. Local organisations will be required to refuse any funds from such groups, and banks and other financial organisations will have to refuse to conduct any transactions with them and inform a money laundering watchdog about all such refusals. Russian nationals who continue to "be involved" with undesirable organisations will first face hefty administrative fines and, if administratively punished twice during a year, might face criminal prosecution with fines of up to 500,000 roubles (£6,500), restrictions of activities and movement, and even a jail sentence of up to six years. 
The law, which appears to be designed for selective implementation, does not clarify what "involvement" with an undesirable organisation may entail. It is likely that distributing reports and other materials, including online, communicating with representatives of such organisations, and participating in international events jointly with such organisations would be interpreted as "involvement" and result in sanctions against Russian activists and groups. The procedure for declaring an organisation "undesirable" is not transparent and an organisation may find out about their "undesirability" only after they have been included on the list.  Meanwhile, there are no procedures for contesting the decision or for excluding the organisation from the list - the decision would be carried out with immediate effect with no forewarning. 
The bill now needs to be approved by the upper chamber of the Russian parliament and signed into law by the president, which in practice is a mere formality.
Amnesty International Europe and Central Asia Director John Dalhuisen said:
 

"This legislation is the latest chapter in an unprecedented crackdown against non-governmental organisations which is effectively criminalising lawful activity and squeezing the life out of free speech and association.

 

"These new harsh restrictions are part of an ever rising repressive tide which is stifling free speech, denying the space for debate and suffocating free expression in Russia."