Russia: one year after jailing, Navalny and supporters in 'living hell'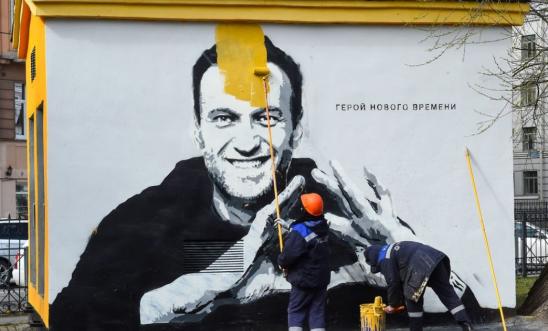 A worker paints over a poster of Alexei Navalny in Saint Petersburg last April. The inscription reads, 'The hero of the new times' © OLGA MALTSEVA/AFP via Getty Images
The jailed opposition leader still faces a raft of bogus charges
Dozens of Navalny's team have fled Russia and many have been jailed amid 'brutal' targeted crackdown
'His supporters and Russian civil society organisations have suffered a relentless onslaught of repression' - Marie Struthers
Over the course of the past 12 months, the Russian authorities have unleashed an unprecedented campaign of repression and reprisals against wrongfully-imprisoned opposition leader Aleksei Navalny and his supporters, Amnesty International said today, the first anniversary of the politician's arrest. 
Dozens of Navalny's team and regional coordinators from his wider political movement have now left Russia fearing political persecution. 
Navalny himself still faces a raft of further bogus charges and up to 15 additional years in prison on top of his current sentence, having been accused of "contempt of court", "fraud on an especially large scale" and "money laundering" in relation to alleged misappropriation of donations to his NGOs. 
He has also been charged with creating an organisation that "infringes on the personality and rights of citizens". 
Marie Struthers, Amnesty International's Eastern Europe and Central Asia Director, said: 
"On the anniversary of his detention, Aleksei Navalny and the political activists associated with him are in a living hell.

"In the year since Navalny's detention at a Moscow airport, the politician, his supporters and Russian civil society organisations have suffered a relentless onslaught of repression.

"Dozens of Navalny's associates and supporters are facing prosecutions on bogus charges, while a growing number of them are already in prison. 

"We call on world leaders, international organisations and people across the world to add their voices not only to the call for Navalny's immediate release, but also for the end of brutal reprisals against his supporters."
More than 360,000 people around the world have signed Amnesty's petition calling for the Russian authorities to immediately and unconditionally release Navalny.
Timeline of anti-Navalny crackdown
On 2 February 2021, a court in Moscow replaced Navalny's non-custodial sentence with a jail term of two years and eight months, later shortened by two months. Soon after, the Russian authorities began dismantling the Anti-Corruption Foundation and the Citizens' Rights Protection Foundation, both of which Navalny had founded.
On 9 June 2021, the Anti-Corruption Foundation and the Citizens' Rights Protection Foundation were officially labelled "extremist" and arbitrarily banned. The activities of the two organisations have since been criminalised.
On 28 September 2021, the authorities opened a criminal case against Navalny and his associates under the trumped-up charge of creating an "extremist association".
On 9 November, Lilia Chanysheva, the former coordinator of Navalny's offices in the city of Ufa was placed in pre-trial detention. 
Arrest after return to Russia
Aleksei Navalny - an outspoken Kremlin critic, author of groundbreaking investigations into high-level corruption in Russia and founder of several civil society organisations - was arbitrarily detained on 17 January 2021 in Moscow's Sheremetyevo airport upon arrival from Berlin, where he had been recovering after being poisoned in Siberia in August 2020. He was placed in pretrial detention for allegedly failing to report regularly to his probation officer in person while recovering from his near-fatal poisoning.