Russia: 'devastating consequences' if COVID-19 sweeps through prisons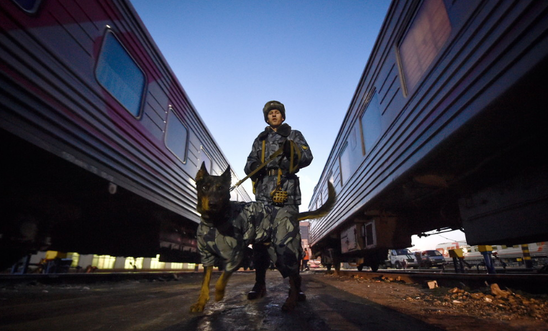 A guard on Russia's prisoner escort in Primorye Territory © Yuri Smityuk\TASS via Getty Images
Letter to Government agencies calls for reduction of prison population 
Large numbers in pre-trial detention, while thousands are in poor health
'The present state of Russia's penitentiary system … exposes prisoners to a higher risk of infectious diseases' - Natalia Prilutskaya
The Russian authorities should take urgent measures to address the potentially devastating consequences should COVID-19 begin spreading among the country's jails and penal colonies, Amnesty International has said in a letter to Russian government agencies. 
At least 9,000 of Russia's 519,600 prison population are over 60-years-old, and many more are in poor health.
Some aspects of the Russian penitentiary system present particular hazardous during the COVID-19 pandemic, including prisoner transportation, where individuals are packed inside poorly-ventilated train compartments, without running water or sanitary facilities. Due to the distances involved in transporting prisoners hundreds of miles to remote penal colonies, some may spend weeks in these appalling conditions.
According to the latest available data, almost 97,000 detainees (nearly one in five of Russia's prison population) are held in pre-trial detention, where conditions are more hazardous in the face of COVID-19, not least because of overcrowding. Russia's pre-trial detainees now face longer periods behind bars as all trials have now been suspended. 
Natalia Prilutskaya, Amnesty International's Russia Researcher, said: 
"If the authorities fail to implement urgent protective measures, the COVID-19 pandemic could strike Russia's prisons with devastating consequences.
 
"The present state of Russia's penitentiary system - with overcrowding, poor ventilation and inadequate healthcare and sanitation - exposes prisoners to a higher risk of infectious diseases.

"Many inmates are already in poor health and located in penal colonies hundreds of miles away from home and far from civil hospitals.

"Urgent action must be taken to stave off potential catastrophe, which is why we are calling on the Russian authorities to consider ways to reduce the nation's prison population.

"The Russian authorities should urgently consider releases - especially of pre-trial detainees and those prisoners who may be more vulnerable to the virus, such as older persons or those in poor health - and take necessary measures to protect the health of all prisoners.

"There must be an urgent and genuine review of all decisions to remand criminal suspects in detention.
  
"We also reiterate our call for the release of all prisoners of conscience - those imprisoned solely for the peaceful exercise of their human rights. They should not have been imprisoned in the first place."
Prisons and healthcare
Prisoners should enjoy the same standards of healthcare that are available in the community, including when it comes to coronavirus testing, prevention and treatment. All detention facilities must be equipped with functioning sanitisers or other facilities that detainees and staff can use. Constant access to running water must be ensured.
In addition, authorities must consider the potentially detrimental mental health impacts of the limitation of prison visits by family members and lawyers that has already been implemented. Alternative means of communication with the outside world must be ensured.