Russia: court to decide fate of Chechnya's leading human rights activist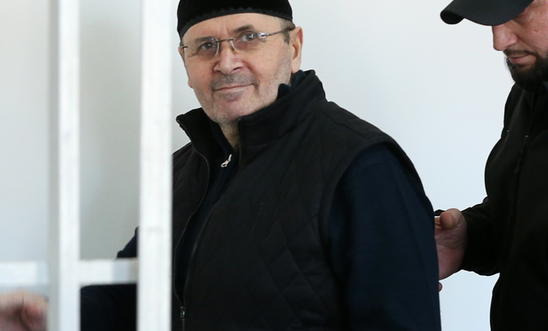 If convicted, Oyub Titiev faces ten years in jail © Yelena Afonina\TASS via Getty Images
Oyub Titiev, head of Memorial in Chechnya, has already been in detention for nearly four months on fabricated drugs charges
If convicted, 60-year-old faces ten years in jail
Case comes after spate of attacks on Memorial
Amnesty International spokespeople in Grozny available for interview
Chechnya's most prominent human rights activist - Oyub Titiev, head of the embattled Memorial Human Rights Centre's office in Chechnya - is set to have an appeal against nearly four months of detention heard tomorrow. 
The Supreme Court of the Chechen Republic will hear Mr Titiev's appeal in a case which has already seen him spending nearly four months in detention on fabricated drugs charges. 
On 9 January, the 60-year-old was stopped in his car by police and held incommunicado for several hours, with the Chechen authorities later saying that drugs had been "discovered" in his car. Titiev denied the allegations and insisted the bag had been planted by police. 
Two days later, Shali City Court in Chechnya ordered Titiev's pre-trial detention on drug possession charges and he's remained in custody ever since. On 25 April, Staropromyslovsky District Court in Grozny extended Titiev's detention for an additional month.
If convicted, Titiev faces a maximum ten-year prison sentence. 
Over the last years, the Memorial human rights organisation has become a target of multiple attacks. Shortly after Titiev's detention, Memorial's office in Nazran, Ingushetia, was burned down, with the perpetrators still unidentified. On 28 March, Sirazhutdin Datsiev, the head of Memorial's office in Dagestan, was badly beaten by an unknown man.
Amnesty International is calling on the Russian authorities to immediately and unconditionally release Titiev.
Denis Krivosheev, Amnesty International's Eastern Europe and Central Asia Regional Office Deputy Director, said:
"The continued detention and prosecution of Oyub Titiev, Chechnya's leading human rights defender, is an affront to justice, human rights and the rule of law in Russia. 

"Every minute he spends behind bars is an insult to the whole human rights community in Russia.

"For years, Oyub Titiev has worked tirelessly to help victims of grave human rights abuses in Chechnya and beyond. Now he is paying with his own freedom for his work. 

"He should never have been arrested in the first place. 

"We are urging the Russian authorities to immediately and unconditionally release Oyub Titiev."