Russia: arrest of 234 protesters outside Moscow court shows 'reality' after Sochi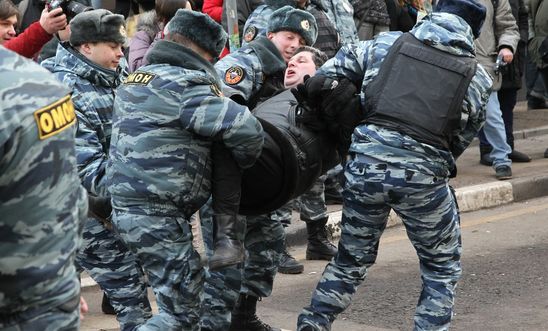 © Sasha Mordovets/Getty Images
Pussy Riot protesters Nadezhda Tolokonnikova and Maria Alyokhina among those arrested
The apparently arbitrary arrest and detention of 234 peaceful protesters outside a Moscow court building today is evidence of how the Russian authorities' rampant violation of freedom of expression and assembly show no sign of letting up, Amnesty International has said. 
The new arrests came as eight protesters were sentenced in the landmark "Bolotnaya Square protest" trial, and they follow the arbitrary detention of nearly 200 protesters and journalists outside the same court on Friday, when the Bolotnaya defendants were convicted. 
Meanwhile, in Sochi, another two activists were re-arrested yesterday and face up to 15 days of administrative detention. 
Vladimir Akimenkov, a former Bolotnaya defendant and prisoner of conscience, was among those detained on Friday and again today. Nadezhda Tolokonnikova and Maria Alyokhina, former prisoners of conscience jailed for their peaceful activism as part of the punk collective Pussy Riot, were also arrested outside the court, allegedly for "jay-walking".
Some of those arrested today have since been released, but most face administrative fines of up to £500 for participating in an "unauthorised gathering". 
Amnesty International Europe and Central Asia Director John Dalhuisen said:
"Just a day after Russia was fêted on the world stage at the closing ceremonies of the Sochi Winter Olympics, the Russian authorities have laid bare the reality of life in the country today. 

"Those who dare to express dissenting views face serious consequences."
Sochi arrests 
Two activists arrested in Sochi yesterday - Olga Noskovets and David Khakim - are due to appear in court today. In violation of Russian law, the court attempted to hear their case behind closed doors, but after the intervention of their defence team the court allowed open hearings. 
Noskovets has not been given any food since being detained more than 24 hours ago. If they are convicted and imprisoned, Amnesty will consider them prisoners of conscience and call for their immediate and unconditional release.