Russia: anti-Putin shaman confined to psychiatric hospital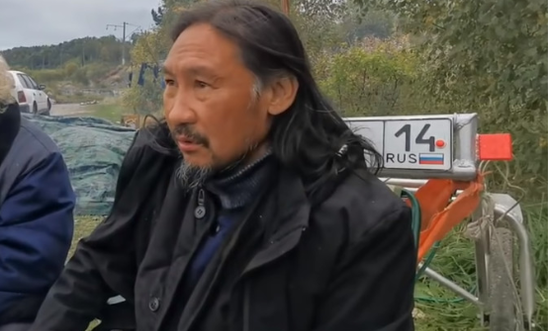 Aleksandr Gabyshev gathered numerous followers during his six-month walk last year © Александр Габышев Шаман / YouTube
Last year, Aleksandr Gabyshev walked more nearly 3,000 kilometres on epic journey toward Moscow 
'Aleksandr Gabyshev has been made an enemy of the state solely for voicing his dislike of Putin' - Denis Krivosheev
Responding to a Russian court's decision earlier today to confirm the confinement of Aleksandr Gabyshev - a Siberian shaman who vowed last year to "to purge" Vladimir Putin from the Kremlin - to a psychiatric hospital, Denis Krivosheev, Amnesty International's Eastern Europe and Central Asia Deputy Director, said:
"Aleksandr Gabyshev has been made an enemy of the state solely for voicing his dislike of Putin and his dramatic journey by foot from his home in Siberia to Moscow.
 
"By co-opting first the police and now the psychiatric system to do their bidding, the Russian authorities have revealed the astonishing lengths they will go to repress critics. 

"This is wholly unacceptable, and Aleksandr Gabyshev must be immediately and unconditionally released."
Shaman's epic trek 
Between March and September last year, Aleksandr Gabyshev walked nearly 3,000 kilometres from his home city of Yakutsk in Siberia toward Moscow saying he intended to use his magic powers to "purge" the country of President Putin. Gabyshev was stopped by police after six months of his trek, during which time he had accumulated various followers. After being briefly taken to a psychiatric hospital, Gabyshev was released and apparently placed under police surveillance. 
On 12 May, riot police entered Gabyshev's home where he was self-isolating and took him to a psychiatric hospital, claiming it was because he had refused to be tested for COVID-19. 
On 29 May, after Gabyshev petitioned the hospital for his release, a medical commission was called and concluded that he posed a "danger to himself and others". The hospital director then sought approval from Yakutsk City Court to extend the shaman's confinement, arguing that he "suffers from over-valuing of his personality" because he had expressed ideas intended "to harm the Government". 
Earlier today, the Yakutsk court approved the forcible hospitalisation of Gabyshev and he may now be confined in the psychiatric hospital indefinitely.