Philippines: Duterte's call to revive death penalty is 'abhorrent'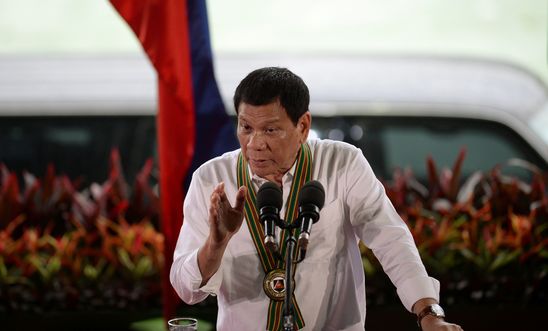 President Duterte's call to revive the death penalty during his State of the Nation Address today will only worsen the country's climate of impunity amid the government's deadly anti-drugs campaign, Amnesty International said.
During today's speech, President Duterte called on Congress to reinstate the death penalty for drug-related crimes. The use of the death penalty for drug-related offences contravene international law and standards.
Butch Olano, Section Director of Amnesty International Philippines, said:
"Extrajudicial killings remain rife in the Philippines. Talk of bringing back the death penalty for drug-related crimes is abhorrent, and risks aggravating the current climate of impunity.

"The President addressed the topic of drugs but did not confront the truth. The country needs an approach that delivers justice for the families of the thousands unlawfully killed, and effective health and social services for those who need them."
An Amnesty report released this month, 'They just kill': Ongoing extrajudicial executions and other violations in the Philippines' 'war on drugs', showed that the Philippine government's so-called 'war on drugs' remains a murderous war on the poor, with rampant killings of mostly poor and marginalised people continuing without credible, impartial and effective investigations into them.
The Philippine government has acknowledged at least 6,600 killings at the hands of police, but evidence points to many more being killed by unknown armed persons with likely links to the police. Amnesty has found that the unlawful killings, many of them extrajudicial executions, may amount to crimes against humanity.
Last month, three-year-old Myca Ulpina died in a police operation in Rizal province, in which a police officer was also killed. The government claims her father used her as a human shield during a "buy bust" operation; the girl's mother claims that police burst into the family home without a warrant as the family slept.
Butch Olano said:
"The state of our nation is a state of mourning. We should not be burying our children amid deadly and ill-conceived police raids. This speech was a missed opportunity to take stock of the tragic killing of three-year-old Myca Ulpina, and thousands of others.

"The government keeps saying bereaved families should file cases before the courts if they believe the police acted illegally during anti-drug operations.

"But Amnesty's research has shown that families are living in fear of reprisals from police if they dare to speak up. They are further unable to secure police reports, a crucial piece of evidence to support their allegations, and pursuing these cases is prohibitively costly for poor families.

"The administration's war on the poor does not end with the killings. It sends families and whole communities into a living hell, all to protect a cruel and repressive policy that is doing nothing to protect people from the risks of drugs."