Philippines: Duterte's 'large-scale murdering enterprise' amounts to crimes against humanity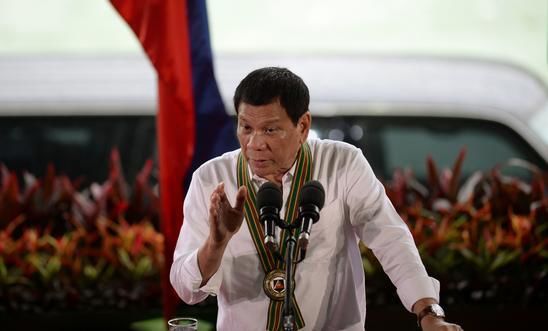 President of the Philippines Rodrigo Duterte
Three years on, extrajudicial executions by police remain rampant
Amnesty International is calling for urgent investigation into Duterte's murderous "war on drugs"
Police in the Philippines are operating with total impunity killing people from poor neighbourhoods as part of President Duterte's murderous anti-drugs campaign, Amnesty International said today.
In a new report, "They just kill", Amnesty is calling for the UN Human Rights Council to immediately open an investigation into gross human rights violations and possible crimes against humanity committed as part of Duterte's "war on drugs".
The report joins a growing volume of evidence that the human rights violations committed in the Philippines' murderous "war on drugs" constitute crimes against humanity.
"They killed him like an animal"
In its investigation, Amnesty identified 20 cases in which 27 people were killed, many of which appear to be extrajudicial executions across Bulacan province between May 2018 and April this year.
In every police operation Amnesty examined, police cited the same "buy-bust" justification: an undercover drug sting where suspects were armed and fought back, "prompting" the use of lethal force.
Families and witnesses repeatedly refuted police accounts. In one case, police claimed Jovan Magtanong, a 30-year-old father of three, fired at them, and that they recovered a .38 calibre gun and sachets of illicit drugs from the scene of the incident.
However, witnesses said he was sleeping alongside his children when officers knocked on his house door asking for another man. Jovan's family said he did not own a gun and had not used drugs for over a year.
"They killed him like an animal", a family member told Amnesty International.
In the majority of cases reviewed by Amnesty, those killed were said to have been on so-called "drug watch lists" compiled by the authorities outside of any legal process.
These lists effectively serve as guides for the police of people to arrest or kill. Local officials down to the neighbourhood level are pressured to show results by collecting the names of "users," "pushers," "financiers," and "protectors" in their area.
These lists provide further evidence of the government's targeting of poor and marginalised communities.
Systematic killings
The Philippine government has acknowledged at least 6,600 killings at the hands of police. Evidence points to many thousands more killed by unknown armed persons with likely links to the police.
Amnesty has previously exposed how the police had systematically targeted mostly poor and defenceless people across the country while planting "evidence", recruiting paid killers, stealing from the people they kill, and fabricating official incident reports.
President Duterte has repeatedly defended his administration's "war on drugs", saying people involved in drugs are "criminals" and that their killing is "justifiable".
Nicholas Bequelin, Amnesty International's Regional Director for East and Southeast Asia, said:
"Three years on, President Duterte's "war on drugs" continues to be nothing but a large-scale murdering enterprise for which the poor continue to pay the highest price.

"It is time for the United Nations, starting with its Human Rights Council, to act decisively to hold President Duterte and his government accountable.

"It is not safe to be poor in President Duterte's Philippines. All it takes to be murdered is an unproven accusation that someone uses, buys, or sells drugs.

"Everywhere we went to investigate drug-related killings ordinary people were terrified. Fear has now spread deep into the social fabric of society."