Palestine: critics of Hamas and Palestinian Authority arrested during COVID-19 pandemic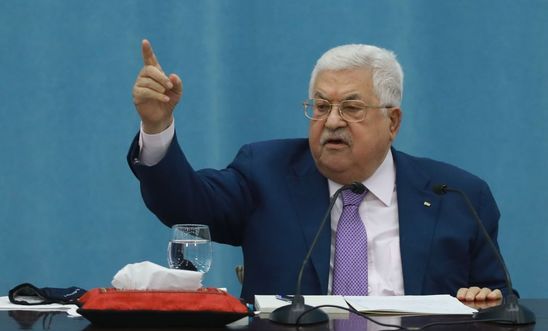 Mahmoud Abbas, President of the Palestinian Authority © Getty Images
Those arrested include former MP, writer and cartoonist
'Such actions by the authorities during a pandemic puts these individuals at an increased risk' - Saleh Higazi
The Palestinian authorities must release those who have been detained for peacefully expressing their views during the coronavirus pandemic, said Amnesty International, as it published a report showing a pattern of arbitrary arrests of those who had criticised the authorities during the COVID-19 outbreak.
Amnesty has documented five cases of individuals arrested by Palestinian security forces in either the Gaza Strip or the West Bank in March and April after they criticised the authorities on social media or conducted other online activities.
All were arrested during the state of emergency which the Fatah-led authorities in the West Bank and the Hamas de facto administration in the Gaza Strip put in place to address the pandemic at the beginning of March. 
 
Amnesty spoke to former detainees, families of detainees, lawyers and local human rights organisations, concluding that those detained have been held solely for peacefully exercising their right to freedom of expression. The arrests come in the context of a pattern of violations of the right to freedom of expression by the authorities in both the West Bank and the Gaza Strip.
Saleh Higazi, Amnesty International's Deputy Middle East and North Africa Director, said: 
"The authorities in both the West Bank and Gaza Strip have violated the right to freedom of expression by arbitrarily detaining individuals solely for peacefully sharing their views on social media. This must immediately stop.
 
"Such actions by the authorities during a pandemic puts these individuals at an increased risk."
The cases documented by Amnesty are: 
 
Hussam Khader, 58, a former Fatah member of parliament, who was arrested on 5 March by the Joint Security Forces in the West Bank for a Facebook post he made on 1 March criticising Palestinian President Mahmoud Abbas for a comment he had made on a strike binge undertaken by the Palestinian Medical Association. Khader was released on 9 March after the charges against him were dropped. 
 
Zakaria Khuwaylid, 22, who was arrested in the city of Tulkarem by security forces from the Palestinian authorities' General Intelligence Service for a comment he made on a Facebook page criticising Mahmoud Abbas' response to the COVID-19 crisis. He was charged with "defamation". On 21 April, he was released on bail.
 
Abdullah Abu Sharkh, 60, a writer, who was arrested by Hamas forces in the northern Gaza Strip on 13 March for a Facebook post in which he hinted that Hamas's military wing was behind a fire that broke out on 5 March in a bakery that resulted in the deaths of 25 people. The public prosecutor charged him with "spreading false news" and "misuse of technology" under the 1963 Penal Code. On 9 April, after 28 days of detention, he was released. According to Abdullah Abu Sharkh, this was the sixth time he had been arrested by the Hamas authorities. 
 
Ismael el-Bozom, 33, a cartoonist from Gaza, who was arrested on 20 March following a Facebook post he shared calling for Abdullah Abu Sharkh's release. He was himself released on 22 March without charge, though was rearrested on 26 March. He was then released three days later under a preventive measure to avoid the spread of COVID-19. According to Ismael el-Bozom, he has been arrested five times since 2017 in connection with his political cartoons and writings, which are critical of Hamas. 
 
Rami Aman, 38, who remains arbitrarily detained by Hamas security forces. He was arrested on 9 April after he organised a video call with an Israeli group several days earlier. According to his lawyer, he remains under investigation and has not been brought before a judge.