Pakistan: resuming executions is 'not the answer' to Peshawar school tragedy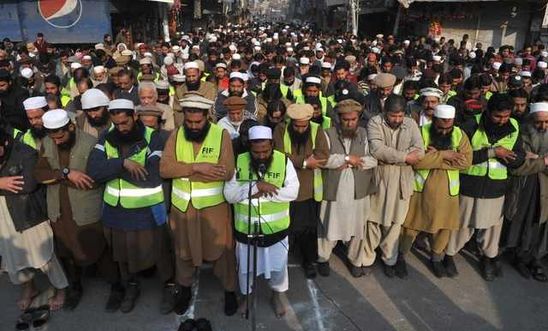 Mourners at a funeral ceremony for those that died during the school attack © AFP/Getty Images
'Lifting the moratorium on executions appears to be a knee-jerk reaction' - David Griffiths
The Pakistani government must resist giving in to fear and anger in the wake of the Peshawar school tragedy and maintain its moratorium on executions, Amnesty International said today after Prime Minister Nawaz Sharif pledged to restart executions for terrorism-related offences. 
Mr Sharif's announcement comes shortly after at least 142 people - including 132 children - were killed by Taliban militants at an army-run school in the north-western city.
Pakistan re-imposed a moratorium on executions in October last year, and has not executed anyone since the hanging of a soldier in November 2012. Meanwhile, the last civilian hanging was in late 2008. 
There are currently dozens of people sentenced to death for terrorism-related offences in the country. Many death sentences in Pakistan are handed down after unfair trials characterised by a lack of access to legal counsel and the acceptance of evidence inadmissible under international law. 
Amnesty is calling for those responsible for indiscriminate attacks and attacks against civilians - including the Peshawar attack - to face investigation and prosecution in proceedings that comply with international fair trial standards, but without resort to the death penalty.
Amnesty International Asia-Pacific Deputy Director David Griffiths said:
"Yesterday's attack was utterly reprehensible, and it is imperative that those responsible for this unimaginable tragedy are brought to justice. However, resorting to the death penalty is not the answer - it is never the answer.

 

"Pakistan is understandably gripped by fear and anger in the wake of the attacks. However, lifting the moratorium on executions appears to be a knee-jerk reaction which does not get at the heart of the problem - namely the lack of effective protection for civilians in north-west Pakistan.

 

"This is where the government should focus its energies, rather than perpetuating the cycle of violence with the resumption of executions." 
As of today, 140 countries are abolitionist in law or practice. Amnesty opposes the death penalty in all cases without exception, regardless of the nature or circumstances of the crime; guilt, innocence or other characteristics of the individual; or the method used by the state to carry out the execution.