Pakistan: 'chilling' torture and killing of Karachi political activist must be investigated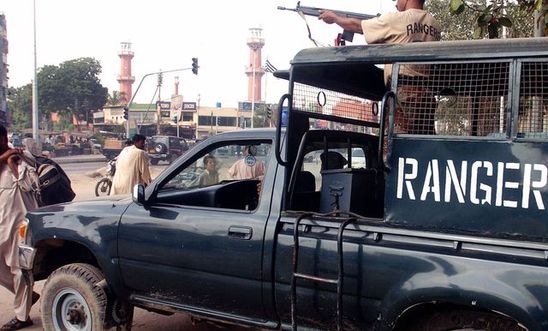 There are numerous allegations of human rights violations by the paramilitary Rangers © Rizwan Tabassum/AFP/Getty Images
Revelation that Aftab Ahmad was tortured while in custody of paramilitary Rangers is 'chilling', says Amnesty
The Pakistani authorities must carry out an independent, thorough and transparent inquiry into the torture and death of a political activist called Aftab Ahmad while he was in the custody of the Rangers, a paramilitary force under the command of the Pakistan Army, Amnesty International said today.
The call comes after the Director-General of the Rangers, Major-General Bilal Akber, admitted that Mr Ahmad was tortured in custody and ordered an internal investigation into the circumstances of his death.
Ahmad was a longstanding member of the Muttahida Quami Movement (MQM) and an aide to a senior leader of the party. Plain-clothes officials arrested him at his home in Karachi on 1 May and handed him over to the Rangers, a Pakistani paramilitary force. On 3 May news of his death emerged alongside disturbing photographs apparently showing wounds sustained during torture. 
Major-General Bilal Akber's admission that Ahmad was tortured in custody directly contradicts earlier claims made by the Rangers, who claimed that he had died of heart failure. A final autopsy report is still awaited. A medical board initially said that they could not conduct an autopsy because of the "state" of his corpse. Members of the MQM - whose leadership is based in the UK and some of whose members have fled repression in Pakistan to the UK - claim that the Rangers were present during the autopsy, which, if found to be true, would suggest an attempt to interfere with the medical board's work.
Amnesty is aware of numerous allegations of human rights violations by the Rangers and other state security forces against political party workers and human rights activists in Karachi and other parts of Sindh province. For example, Amnesty is extremely concerned at the arbitrary detention and alleged torture of Kehar Ansari, Vice-Chairman of the Jeay Sindh Qaumi Mahaz political party. Taken by plain-clothed men from Naushahro Feroze, Sindh on 23 April, Ansari was released on the night of 3 May with bruises indicating torture, a day after security forces shot at members of his party during a protest for his release, killing one and injuring seven others. 
Amnesty International's South Asia Deputy Director Jameen Kaur said:
"The chilling revelation that Aftab Ahmad was tortured and died in the Rangers' custody must result in an independent, efficient and transparent investigation.

 

"It will not suffice for the Rangers to investigate themselves. A series of contradictory statements by the paramilitary force in the hours since the news of Aftab Ahmad's death emerged point to attempts to mislead the public and resist accountability.

 

"This is not an isolated incident:  we have received numerous reports of a broader pattern of arbitrary detentions, other ill-treatment, torture and unlawful killings in Karachi and other parts of Sindh province. The investigation must comply with Pakistan's international legal obligations and make a break with the prevailing culture of impunity for human rights violations. It must leave no stone unturned, look into issues such as command responsibility, and its conclusions must be made public.

 

"Any members of the Rangers or other state security personnel found to be responsible for these violations must be brought to justice as part of a fair trial process without recourse to the death penalty, regardless of their rank or other status."