Northern Ireland: 'historic day' as abortion ban lifted and equal marriage made law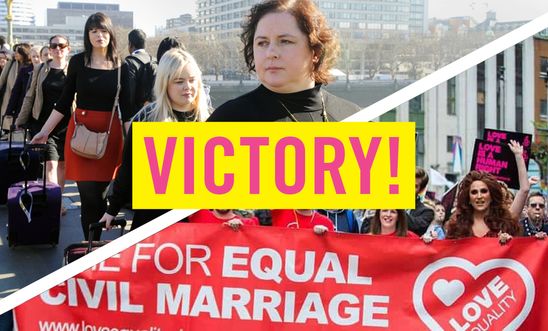 Landmark legislation passes final stage and will now become law
'Future generations in Northern Ireland will no longer have to suffer inequality in the way so many have had to endure in the past' – Patrick Corrigan
'Today is a momentous win for women's rights. Northern Ireland's 158-year-long abortion ban has finally been brought to an end' – Grainne Teggart
Landmark legislation on abortion and equal marriage in Northern Ireland has passed its final stage in the UK Parliament.
Amnesty International - which has been working closely with MPs and peers and campaigning on both issues for many years - heralded the Westminster move as "historic".
The abortion and equal marriage commitments in the Northern Ireland (Executive Formation) Bill will now become law by 21 October this year, unless the Northern Ireland Executive has been re-established by that date.
The deadline for the new same-sex marriage law to come into force is January 2020, and the date by which full abortion regulations must be implemented is March 2020, with some elements happening sooner. Abortion will be decriminalised and women currently facing criminal trial will have their prosecutions dropped from 22 October this year.
Patrick Corrigan, Northern Ireland director of Amnesty International, said:
"This is a historic day for human rights.

"Nowhere on these islands have people had to fight longer and harder for their human rights than in Northern Ireland.

"Future generations in Northern Ireland will no longer have to suffer inequality in the way so many have had to endure in the past.

"Now, Amnesty's attention will focus on ensuring the speedy implementation of access to healthcare and marriage for people in Northern Ireland."  
Abortion reform a 'giant step forward'  
The Bill delivers long awaited abortion law reform, including decriminalisation. This will stop women being prosecuted for accessing abortion and introduce a suspension for current cases.
Grainne Teggart, Amnesty International's Northern Ireland campaign manager, said:
"Today is a momentous win for women's rights. Northern Ireland's 158-year-long abortion ban has finally been brought to an end.

"Abortion will be decriminalised and women currently facing criminal trials will have their prosecutions dropped within a few months.

"These reforms are a giant step forward, and an important recognition of women's right to healthcare in Northern Ireland.

"After many years of fighting through the courts alongside women such as Sarah Ewart and building cross party support at Westminster, this is finally the equality we deserve."
Abortion campaign
Amnesty has been supporting Sarah Ewart, who was forced to travel for an abortion in 2013 despite her pregnancy being given a fatal foetal abnormality diagnosis, and who has a case before Belfast High Court.
Sarah Ewart said: 
"It's an overwhelming relief that we're finally seeing an end to the abortion law that has caused so many women like me huge amounts of pain. We've wanted reform and justice for so long, and now we've got it. We've spent years fighting alongside Amnesty through the courts and at Westminster, and finally our calls have been answered. Finally, we will have the space and dignity in law to make private healthcare choices."
Amnesty International has been leading the campaign for abortion law reform in Northern Ireland for more than five years. Key moments in the campaign include:
2015: Belfast High Court rules Northern Ireland's abortion law is incompatible with human rights standards – Amnesty UK and Sarah Ewart are key intervenors. This was overturned in Court of Appeal and appealed to the Supreme Court.

June 2018: Supreme Court rules Northern Ireland's law breaches human rights but cannot issue formal judgment as it requires an individual victim to bring the case forward. Amnesty and Sarah Ewart announce they will take the case to Belfast High Court.

September 2018: Leaders from the major Northern Ireland political parties sign a statement coordinated by Amnesty and FPA calling on the UK Government to decriminalise abortion and ensure a human rights compliant framework. The statement coincides with an Amnesty-hosted visit from Conservative MPs to Belfast, who reject devolution as an excuse not to take action.

October 2018: Diana Johnson's Private Members Bill passes first reading.

November 2018: Judicial review of challenge to Public Prosecution Service's decision to prosecute a mother who bought abortion pills for her then 15-year-old daughter. Amnesty is a formal intervenor in the case.

January 2019: Belfast High Court hearing in judicial review taken by Sarah Ewart and supported by Amnesty.