Northern Ireland abortion: Sarah Ewart in High Court to challenge law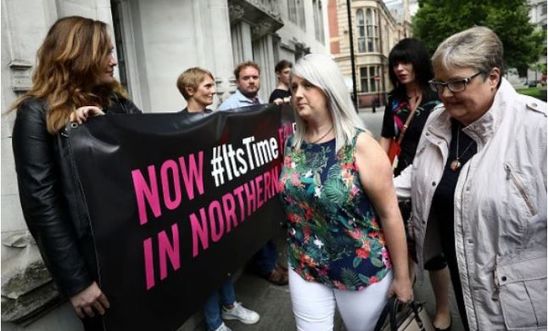 COURT CASE:  WEDNESDAY 30 JANUARY – FRIDAY 1 FEBRUARY 2019
Landmark case in Belfast High Court could find UK in breach of human rights commitments
'I hope this will be the last time I have to go to court and prove that women like me should be able to access abortion services at home' – Sarah Ewart
Where: Royal Courts of Justice, Chichester Street, Belfast BT1 3JF
What/when:
30 January 2019 at 09.30am: photo opportunity and statement outside court -

Sarah Ewart and Grainne Teggart will speak ahead of court hearing. Activists will hold a banner reading 'Now #ItsTime for women of Northern Ireland'

9.45am: court hearing begins
This week (30 January – 1 February), the Belfast High Court will hear a case that could find Northern Ireland's abortion law in breach of the UK's human rights commitments.
Amnesty International is supporting Sarah Ewart, a woman who was forced to travel to England for an abortion after being told her pregnancy had a fatal foetal diagnosis, to bring her case to the Belfast High Court. Amnesty is an intervenor in the case.
The case was launched following a UK Supreme Court judgment in June 2018. In this case, five of the seven UK Supreme Court judges ruled that Northern Ireland's abortion law breaches the UK's human rights obligations, yet the court concluded that the Northern Ireland Human Rights Commission (the body that brought the case) did not have the power to bring the proceedings forward, as it was not itself a 'victim' of any unlawful act. Due to this legal technicality, the UK's Supreme Court was unable to issue a formal declaration of incompatibility*.
Sarah Ewart and Amnesty are hoping that by bringing an individual's case to the Belfast High Court, the declaration of incompatibility will be achieved.
Sarah Ewart, said:
"Time and time again I've told my story to MPs, courtrooms and judges. Each time I re-live the trauma. I hope this will be the last time I have to go to court and prove that women like me should be able to access abortion services at home, without being forced to travel. I hope this case can bring a ruling that helps end the suffering for us all."
Grainne Teggart, Amnesty International's Northern Ireland Campaign Manager, said:
"It's a damning indictment on the UK Government's failure to prioritise women's rights and healthcare that women like Sarah are forced through the ordeal of the courts to have their rights vindicated.
"Last June, the UK's Supreme Court made clear that the UK was in breach of its human rights obligations, but the final judgment couldn't be made because an individual hadn't brought the case forward. Sarah has bravely stepped up to be the individual who takes the case to the court.
"This hearing is our opportunity for an official judgment that Northern Ireland's abortion law breaches the UK's human rights commitments.
"It's a huge moment. People everywhere will have their fingers crossed with hope that the Belfast Court rules in favour of women's rights and reproductive freedom.
"Women in Northern Ireland cannot be left to suffer under one of the most oppressive and severe abortion laws in the world. This must be our time for change."
ENDS
Notes to editors:
 To arrange an interview, please contact the Amnesty press office.
*The declaration issued by a UK court when a statute is incompatible with the European Convention of Human Rights