Nicaragua: Ortega's re-election threatens human rights 'horror thriller'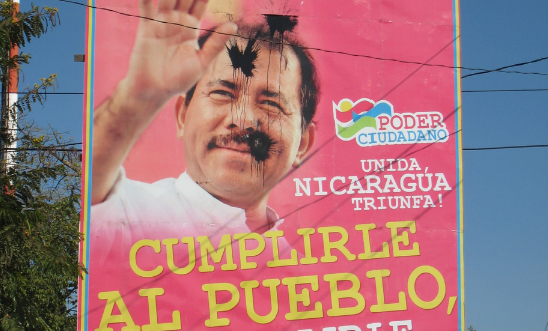 Paint-bombed government poster on a street in Managua. © Amnesty International (photo: Grace Gonzalez)
Preliminary results from the Nicaraguan general election suggest that Daniel Ortega will be re-elected
Elections were marked by arbitrary arrests of activists and journalists
'The international community must do more than standing by as brave Nicaraguans continue to fight for their dwindling human rights' - Erika Guevara-Rosas
The prospect of Daniel Ortega's fourth presidential term in Nicaragua is a frightening one for a nation where human rights violations have become increasingly commonplace under his government, Amnesty International said today.
In response to Nicaragua's Electoral Supreme Council announcement of the preliminary results, Erika Guevara-Rosas, Amnesty International's Americas Director, said:
"Once again, the people of Nicaragua find themselves in a situation where voicing criticism of the government puts them at grave risk.

"In the last few years, we've witnessed first-hand the plot of a horror thriller developing in the country, where deadly police repression, wrongful imprisonment, ill-treatment, harassment and criminalisation of human rights defenders and journalists are common practices, all of them endorsed by a judiciary without independence and a National Assembly that exists only to rubberstamp Daniel Ortega's repressive agenda.

"Daniel Ortega and Rosario Murillo's renewed mandate as president and vice president augurs the perpetuation of the structures behind the repressive strategy against critical voices and guaranteed impunity for crimes under international law. Moreover, this new period portends the continued forced migration of those who are criminalised for speaking out.

"The international community must do more than standing by as brave Nicaraguans continue to fight for their dwindling human rights."
Preliminary results
Nicaragua's Electoral Supreme Council announced the preliminary results of Sunday's general election today, under which Ortega would be re-elected. His new term will begin in January 2022. The elections were marked by arbitrary arrests of activists and journalists, among other acts of harassment, coercion and political violence. Press freedom has also been in the government's crosshairs, and the media have denounced restrictions and obstacles that have made it impossible for them to carry out their work.  
Removal of presidential candidates
Since the end of May, 39 people identified as opponents of the government, including seven presidential candidates, were unfairly arrested. Some of them were forcibly disappeared for a period of time and held in secret for months before being allowed contact with a lawyer or their relatives.
Documenting human rights violations
Since 2018, Amnesty has documented human rights violations including violent and lethal repression against demonstrators and harassment and criminalisation  of social activists, human rights defenders lawyers and journalists. The government-controlled National Assembly also passed several laws that severely diminished the civil space and put human rights at risk.