New report criticises US government silence over CIA torture revelations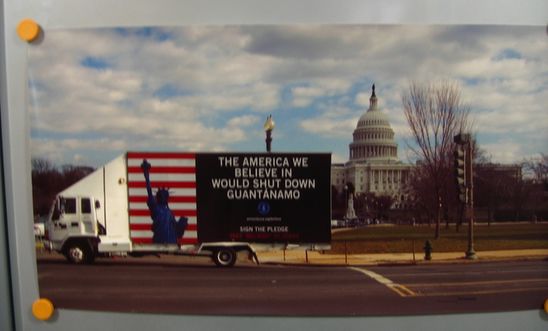 CIA 'black site' detention centres and Guantánamo continue to tarnish the USA's human rights record © Unknown
'It is not enough to admit that "We tortured some folks" … and then move on' - Steven W Hawkins
Amnesty International has strongly criticised the Obama administration's silence in the wake of last year's Senate torture report, with Amnesty calling on the US Department of Justice to reopen and expand its investigation into CIA interrogations.
Amnesty's report also highlights the lack of accountability for enforced disappearance and the failure to recompense victims of the CIA's programmes.
Amnesty International USA Executive Director Steven W Hawkins said:
"It is not enough to admit that 'We tortured some folks' as President Obama did last August, and then move on.

 

"Unless the US government makes a concerted effort to end the impunity associated with this secret detention programme, the United States' human rights record will remain tarnished." 
Four months after the declassification of the report summary, the US administration has yet to take any meaningful steps toward ending the impunity associated with the secret detention programme. Instead, they have effectively buried the Senate report, leaving the door open for similar programmes in the future. Additionally, representatives of the US Department of Justice have gone on record saying that no-one has read the still-classified full report, instead leaving its CD copies of the report unread in a secure facility. 
Amnesty International USA's Security and Human Rights Programme Director Naureen Shah said:
 

"The Obama administration can't just sweep the Senate torture report under the rug.

 

"This was a programme for which impunity was envisaged early on and continues to this day. If the Obama administration fails to act now, the whole point of the 6,700-page Senate report is lost."
Amnesty is calling on the US Department of Justice to reopen and expand the limited review of CIA interrogations it closed down in 2012 without anyone being charged. This time it must ensure a thorough investigation into the CIA secret detention, rendition and interrogation programmes with a view to bringing to justice all those suspected of being involved in torture and enforced disappearance. 
Last year Amnesty launched a global Stop Torture
campaign
.