New book on Jamal Khashoggi's murder to be launched at London event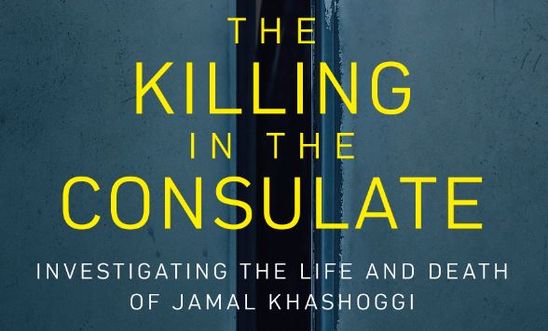 Jonathan Rugman's book is the first to look at Jamal Khashoggi's life, his murder and the international controversy that followed © Simon & Schuster
Author Jonathan Rugman to discuss his major new book - 'The Killing in the Consulate'
Event marks one year since Khashoggi's brutal killing in Istanbul
On Wednesday 2 October, Amnesty International UK is hosting a special event at its east London headquarters to launch a major new book on the murder of Jamal Khashoggi, the Saudi Arabian journalist brutally killed inside the Saudi consulate in Istanbul last year.
Written by Channel 4 News's award-winning foreign affairs correspondent Jonathan Rugman, The Killing in the Consulate: Investigating the Life and Death of Jamal Khashoggi, is the first book-length account of Khashoggi's life, murder and the international controversy which followed. 
The event, being held exactly one year on from Khashoggi's killing on 2 October 2018, will see Rugman in conversation with the LSE's Professor Madawi Al-Rasheed discussing the book, taking questions from the audience and signing copies after the one-hour event.
In the introduction to the book, Rugman says:
"Jamal Khashoggi was deprived of the freedom to say and write what he believed; deprived also of the freedom to marry the woman he loved. Only by this telling of his story, with the help of his fiancée and friends, can our leaders be held to account for the choices they make." 
Khashoggi was reportedly strangled moments after entering the consulate building last October, and his body has never been recovered. Eleven suspects are currently on trial before the Specialised Criminal Court in Riyadh for the murder - though Amnesty has said the trial "lacks credibility and transparency". 
DETAILS
What: book launch 'in conversation with' and audience Q&A, with an opportunity to purchase a signed copy of the 352-page hardback publication (Simon & Schuster UK); there will be an informal drinks reception after the event
Who: 
Jonathan Rugman - Channel 4 News foreign affairs correspondent and book author
Professor Madawi Al-Rasheed - Middle East Centre, London School of Economics
Kate Allen - Amnesty International UK's Director (introducing the event)
Where: Amnesty International UK, 17-25 New Inn Yard, London EC2A 3EA (Shoreditch)
When: Wednesday 2 October 2019, 7.30-9.30pm (main event 7.30-8.30, book signing and drinks after); doors open at 7.00pm
Cost: free - though please reserve a place here