Nazanin Zaghari-Ratcliffe: giant Mother's Day card and flowers to be delivered to Iranian Embassy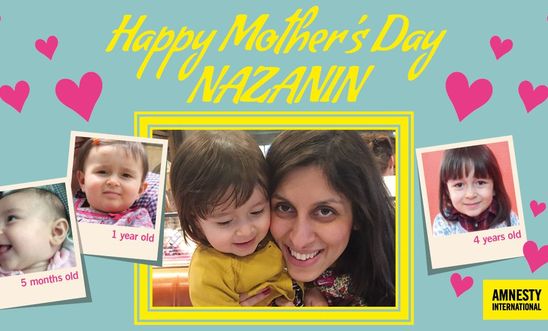 Husband Richard Ratcliffe, other family members and Hampstead Mothers will attend
155 bunches of flowers - representing number of weeks mother-of-one has already been in jail - to be laid at door of the embassy 
Richard Ratcliffe - husband of the jailed British charity worker Nazanin Zaghari-Ratcliffe - will take a giant Mother's Day card and bunches of flowers to the Iranian Embassy in London on Mother's Day (31 March, 11am) to renew a call for his wife's release from prison in Iran.
Mr Ratcliffe will be accompanied by family members, campaigners from the "Hampstead Mothers" group and members of Amnesty International - who have organised the event. Each of these will take bunches of flowers to the embassy steps.
In all, the campaigners will take 155 bunches of flowers to the embassy, one bouquet for each week the 40-year-old mother has been in jail in Iran. Each of the bunches will be wrapped in a distinctive Amnesty ribbon.
The Mother's Day card, bearing Amnesty International branding, has been signed by nearly 20,000 supporters, who signed the card in less than a week. Meanwhile, more than 185,000 people have supported Amnesty's campaign calling for Ms Zaghari-Ratcliffe's release.
The event comes just three days before the third anniversary (3 April) of Zaghari-Ratcliffe's arrest at the end of a family visit to Iran with her infant daughter Gabriella. Earlier this month, the Foreign Secretary Jeremy Hunt announced the UK Government had invoked "diplomatic protection" status for Zaghari-Ratcliffe, meaning her ongoing detention had become the basis of a formal dispute between the two countries.
Kate Allen, Amnesty International UK's Director, said:
"It's heart-wrenchingly sad that Nazanin is being forced to spend another Mother's Day behind bars. 

"Nazanin is the victim of a terrible miscarriage of justice. 

"The Iranian authorities need to release Nazanin immediately and unconditionally, before even more damage is done to this innocent, long-suffering family."
Three years in jail
Nazanin Zaghari-Ratcliffe, 40, a British-Iranian dual-national charity worker, was arrested at Tehran's Imam Khomeini Airport on 3 April 2016 prior to boarding a plane back to the UK after a regular family visit to the country with her infant daughter Gabriella. After being detained in solitary confinement without access to a lawyer, Zaghari-Ratcliffe was sentenced to five years in prison in September 2016 after being convicted of "membership of an illegal group" in a grossly unfair trial by a Revolutionary Court in Tehran.
Zaghari-Ratcliffe is presently serving a five-year jail sentence in Tehran's notorious Evin Prison. Since being jailed, she has suffered a serious decline in her physical and mental health, something her husband has repeatedly drawn attention to during a high-profile campaign on his wife's behalf. Her requests for periods of temporary release - for which she is eligible - have been met on only one occasion (last August), followed three days later by a return to jail. Amnesty described her return to jail on 26 August as a "crushing disappointment". She is suffering from numerous health problems - including severe arm, neck and back pain - and there have been serious concerns over her mental state. 
Amnesty has designated Zaghari-Ratcliffe a prisoner of conscience targeted solely for the peaceful exercise of her rights to freedom of expression and association. Amnesty has repeatedly called on the Iranian authorities to release her immediately and unconditionally. 
In December, Zaghari-Ratcliffe completed her 1,000th day in detention, and three days prior to that she turned 40 in jail.