Nazanin Zaghari-Ratcliffe: extension of temporary release welcomed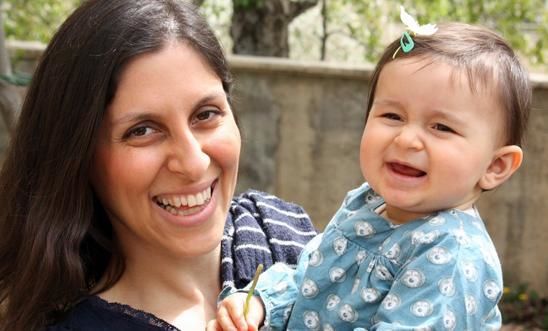 Nazanin Zagahri-Ratcliffe with her daughter Gabriella © FreeNazanin campaign
'There should be no question of Nazanin ever being sent back to Evin Prison' - Kate Allen
Responding to reports that the British national Nazanin Zaghari-Ratcliffe will have her temporary release from jail in Iran extended by a further month, Kate Allen, Amnesty International UK's Director, said:
"This is obviously good news compared to a return to prison, so we're very pleased for her and her family.

"There should be no question of Nazanin ever being sent back to Evin Prison. There are numerous reports of COVID-19 in Iranian jails, with detainees pleading for basic things like soap to help combat the disease.

"The basics of this disturbing case have never changed - Nazanin is a prisoner of conscience, convicted after a deeply unfair trial, and she should never have been behind bars at all.

"We're urging the Iranian authorities to finally do the right thing and free Nazanin permanently, allowing her to return to her family back here in Britain."
Accused of being 'spy'
Nazanin Zaghari-Ratcliffe, 41, was arrested at Imam Khomeini airport in Tehran in April 2016 as she was about to board a plane back to the UK following a family holiday in Iran. After being detained for over five months, initially for 45 days in solitary confinement without access to a lawyer, Zaghari-Ratcliffe was subjected to a deeply unfair trial and sentenced to five years in prison after being convicted of "membership of an illegal group". The charges appear to relate to her employment at Thomson Reuters Foundation, a charity organisation, as well as her past work as an administrative assistant on a BBC charity project. 
Temporary release amid coronavirus fears 
Last month, Zaghari-Ratcliffe - like numerous prisoners in Iran - was released on a temporary basis after fears that coronavirus could infect large numbers of detainees in Iran's overcrowded jails. After being allowed out of Tehran's Evin Prison, she was required to wear a security device limiting her to within 300 metres of her parents' home in the capital. 
Health concerns
For most of her detention, Zaghari-Ratcliffe has been held in Evin Prison, where the quality of food is poor and prisoners are routinely forced to buy extra food from the prison shop to maintain something close to an adequate diet. Evin prisoners, like those in other jails in Iran, are often denied vital medical treatment, apparently as a further layer of punishment. During her incarceration, Zaghari-Ratcliffe has suffered from numerous health problems - including severe arm, neck and back pain - with her husband repeatedly raising concerns over his wife's mental and physical health.
Other dual-nationals
Zaghari-Ratcliffe's treatment at the hands of the Iranian authorities appears to be part of a wider pattern of bringing spurious national security-related charges against dual-nationals and other individuals with foreign connections. Prominent past cases include the Iranian-American Washington Post journalist Jason Rezaian, and the Canadian-Iranian academic Dr Homa Hoodfar. 
Human rights crackdown
In recent years, the human rights situation in Iran has deteriorated severely. The authorities have suppressed free expression and imprisoned those voicing dissent. Amnesty is gravely concerned that the Iranian authorities are intensifying their crackdown against human rights defenders, who have already been working under suffocating levels of repression. The intensification of the crackdown is illustrated most shockingly by the harsh prison sentences given to human rights defenders in connection with their human rights work. For more on the wider human rights situation in Iran, go here.