Myanmar: Two Reuters journalists due in court must be released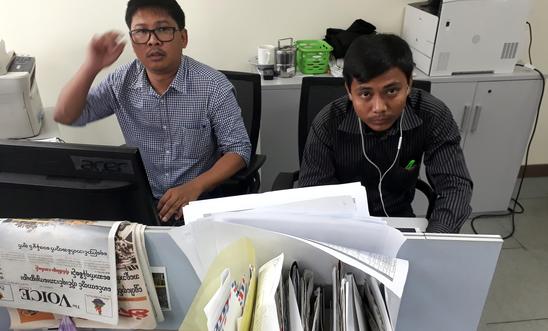 The Myanmar authorities must immediately release two Reuters journalists who have been arbitrarily detained for investigating military abuses in Rakhine State, Amnesty International said.
The two reporters, Wa Lone and Kyaw Soe Oo, are due in court tomorrow (Wednesday 10 January). They had been investigating military operations in Rakhine State when they were arrested on 12 December.
James Gomez, Amnesty's Southeast Asia Director, said:
"Wa Lone and Kyaw Soe Oo must be immediately and unconditionally released. They have done absolutely nothing but carry out their legitimate work as journalists.

"This is clearly an attempt by the authorities to silence investigations into military violations and crimes against Rohingya in Rakhine State, and to scare other journalists away from doing the same.

"These arrests have not happened in a vacuum, but come as the authorities are increasingly restricting independent media.

"Journalists and media outlets, in particular those who report on 'sensitive topics', are living with the constant fear of harassment, intimidation or arrest. This clampdown on freedom of speech must end."
Wa Lone and Kyaw Soe Oo were arrested in the capital Yangon on 12 December last year, and were initially held incommunicado for two weeks. State officials have confirmed the two are being investigated for breaching Myanmar's Official Secrets Act, which carries a maximum sentence of 14 years in prison.