Myanmar: 'Murderous' airstrike killed 28 civilians including children investigation reveals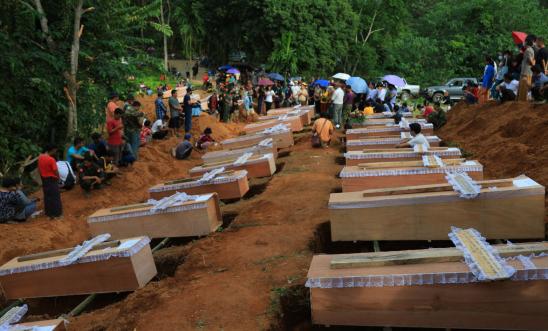 © Copyright: Awng Ja
Myanmar military appear to have used the largest aerial-delivered bomb in their arsenal
Witnesses speak of the horror they experienced, with one saying 'We sat there and kept on shouting for help … On that night, I even thought that I would die'
'The UN Security Council should impose a long-overdue arms embargo, including on the supply of aviation fuel' - Matthew Wells
The Myanmar military killed at least 28 civilians in an airstrike on a displaced-persons camp earlier this week in an attack that may amount to a war crime, Amnesty International said today.
At approximately 11:30pm on 9 October, the Myanmar military launched an attack that hit the Mung Lai Hkyet displacement camp, close to the town of Laiza in Kachin State, near Myanmar's border with China. Witnesses told Amnesty that a large bomb exploded near the camp, followed by sustained mortar fire from nearby Myanmar military positions.
The camp is home to an estimated 150 displaced families and is near other civilian homes in Mung Lai Hkyet village. The camp is around three miles from central Laiza, the headquarters of the Kachin Independence Organisation/Army, an armed ethnic group that has fought the Myanmar military for decades.
Matthew Wells, Amnesty International's Crisis Response Director, said:
"This murderous assault by the Myanmar military is further proof of their complete disregard for civilian life.

"The airstrike on the Mung Lai Hkyet displaced-persons camp is the latest in a long list of indiscriminate attacks against civilians committed by the Myanmar military since its coup in 2021, many of which amount to war crimes. 

"The world must wake up to the horror unfolding daily in Myanmar. The UN Security Council should impose a long-overdue arms embargo, including on the supply of aviation fuel, as the Myanmar military repeatedly unleashes its arsenal on civilians across the country."
Murderous blast
Amnesty's weapons experts analysed photos and videos of the aftermath of the attack, which show evidence of a single massive blast that flattened dozens of nearby buildings - including a church, a preschool and many homes - and started numerous fires.
The blast wave caused catastrophic pressure and fragmentation injuries to the victims, including fatal head wounds, lacerations that exposed organs, and the removal and pulverisation of limbs. The size of the crater and observable damage is consistent with the largest aerial-delivered bombs in the Myanmar military arsenal. Amnesty believes the Myanmar military almost certainly used an unguided bomb, which is inaccurate and completely inappropriate for use around civilians.
In a statement, the Myanmar military denied responsibility, saying it was an explosion at a site where the Kachin Independence Organisation/Army stored ammonium nitrate. This explanation is contradicted by witness accounts, which said that the explosion was part of a coordinated attack. In addition, the bomb fell on a large open field with regular vehicle traffic, and so was unlikely to have been an ammonium nitrate storage area.
Based on the totality of the evidence, Amnesty finds the most likely scenario to be that this was an airstrike with a single unguided bomb. The Myanmar military has a long history of carrying out indiscriminate attacks of this kind, including on other displaced-persons camps. Where an indiscriminate attack kills or injures civilians, it amounts to a war crime under international humanitarian law.
'On that night, I even thought that I would die'
Amnesty interviewed three witnesses of the attack and immediate aftermath. One woman, whose family survived the blast, told Amnesty:
"I went to bed around 10:30pm. While I was listening to news about the conflict between Israel and Hamas on Facebook, at around 11:30pm, a huge bomb fell. I was staying with my niece in one room, and my sister and other people were staying in another room. I suddenly woke up once the heavy weapons exploded. While I was still laying in my bed, I called out to my family members … I said, 'We cannot stay here anymore. We need to move'.

"As we are IDPs [internally-displaced people], we have to live on other people's land … We did not have a place to dig a bomb shelter. We had to hide in the concrete water drain on the side of the road. We sat there and kept on shouting for help … On that night, I even thought that I would die. When I look into the future of our [IDP] lives, I feel darkness."
The woman and her nine family members hid as mortar fire landed a short distance away, before escaping to take shelter nearby.
A person staying nearby, who arrived approximately two hours after the bomb exploded, told Amnesty:
"We don't know how they dropped or fired the first bomb, but we know that the … follow-up firing came from where [Myanmar] military posts are located. I saw 28 bodies … Almost all [of the] people were killed because of the bomb blast. Some of their heads were destroyed beyond recognition. A mother and two of her children were among the victims. I could not bear it when I saw the baby and children die. I could not control my tears."
According to a list of victims seen by Amnesty that appears to have been compiled by the Kachin Independence Organisation/Army, at least 12 children were among those killed, and at least 57 more people were injured.
Another witness living next to the camp, who said he heard the sound of a jet overhead, told Amnesty the bomb left a huge crater in the middle of a nearby field. He said a Baptist church on a hill, like dozens of other civilian objects near where the bomb fell, was destroyed.
He said:
"The explosion destroyed all the houses … In the Kachin language, this kind of bomb is called a 'hell bomb'… I had to crawl out of the debris to survive … My whole body is in pain, and my ears are still buzzing from the bombing."
Amnesty is again calling for the UN Security Council to impose a comprehensive arms embargo on Myanmar and to refer the situation in the country to the International Criminal Court so those responsible for crimes under international law can be brought to justice.
Attacking civilians from the air
Since its 1 February 2021 coup, the Myanmar military has increasingly relied on air strikes to attack the civilian population.
The Kachin Independence Organisation/Army is one of many armed ethnic organisations along Myanmar's border areas. The Myanmar military and the Kachin Independence Organisation/Army have been engaged in a non-international armed conflict for decades. Fighting between the two forces has continued since the coup, with the armed group active in the broader nation-wide movement against the military's rule.
In a May 2022 report, Amnesty found that Myanmar's military had subjected civilians to collective punishment via widespread aerial and ground attacks, arbitrary detentions, torture, extrajudicial executions, and the systematic looting and burning of villages. A further investigation in October found that deadly air strikes on a music concert in Kachin State, which killed dozens of people including civilians, appeared to fit a pattern of unlawful attacks. And in another report the following month, Amnesty identified companies involved in the supply chain of aviation fuel to the Myanmar military, and revealed new accounts of airstrikes on civilians.