Myanmar: military's shoot-to-kill tactics condemned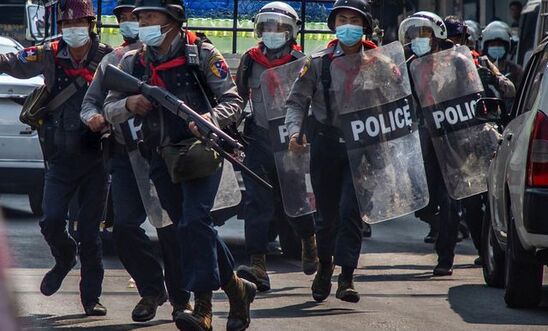 Riot police in Yangon charging anti-coup protesters last weekend © Getty Images
Evidence points to military becoming more brazen in its use of force
'There is a growing consensus that this has been authorised by the government' - Emerlynne Gil
Responding to reports of numerous killings by the Myanmar armed forces yesterday, the deadliest day since the 1 February coup, Emerlynne Gil, Amnesty International's Regional Deputy Director, said: 
"Everything points to troops adopting shoot-to-kill tactics to suppress the protests, and with silence from the military administration there is a growing consensus that this has been authorised by the government.  

"Everything we know about the army's command structure, and the absence of any calls for restraint from his office, raises questions that must be answered. 

"For years, the army has acted with impunity in ethnic minority areas, but to see them deploy the same tactics on camera, in cities, is an alarming new development.  

"We are seeing a surge in unlawful killings, including apparent extrajudicial executions, with no apparent attempt to rein in the use of lethal force. If anything, the security forces appear increasingly brazen in their deployment of lethal weapons with each passing day. 

"We are extremely alarmed by credible evidence of machine guns being fired in Yangon, the largest city, as well as military aircraft flying over protest sites in Yangon and Mandalay. 

"There is an acute and urgent need for a prompt, effective, independent and impartial investigation into shocking human rights violations across Myanmar, including the chain of command responsible for these egregious killings. The military leadership has calculated that they will get away with this. The international community needs to ensure that those calculations were wrong." 
At least 48 dead so far
According to the most recent estimates from the Assistance Association for Political Prisoners Burma organisation, 22 people were killed by security forces across Myanmar yesterday, while 17 protesters were killed on 28 February. The total number of fatalities since the 1 February coup is thought to be at least 48. Local media sources reported a high number of gunshot wounds to the head and back as a leading cause of the killings. 
The UN Fact Finding Mission on Myanmar has previously called for Senior General Min Aung Hlaing, Myanmar's military chief now in charge of the country, and other senior officials to be investigated and prosecuted for war crimes, crimes against humanity and genocide.  Amnesty research has previously shown how the deployment of specific infantry battalions by the military's senior command resulted in some of the most egregious human rights violations by the Myanmar military. These same battalions have previously been identified at protest sites since the coup.