Myanmar: Journalists arrested in 'another alarming assault on press freedom'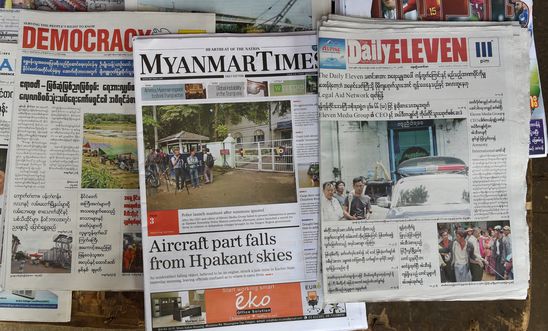 Responding to the arrest of journalists Nayi Min, Kyaw Zaw Linn and Phyo Wai Win in Myanmar today, Tirana Hassan, Amnesty International's Director of Crisis Response, said:
"These arrests are yet another alarming assault on press freedom in Myanmar, and demonstrate that the authorities in the country are growing more thin-skinned by the day. They should be released immediately and without conditions.

"Journalists have a vital role to play in holding state officials to account and informing the public. These arrests, which came in response to an article criticising financial management by the Yangon Regional Government, send a worrying message to journalists and anyone who tries to question the government.

"Rather than detain journalists for doing their job peacefully, the authorities should repeal the oppressive laws being used to create a climate of fear and intimidation."
The three journalists from Eleven Media were remanded by Yangon police earlier today. They are being investigated under Section 505(b) of Myanmar's Penal Code, a vaguely-worded law often used to stifle the work of human rights defenders and more generally the right to freedom of expression. If charged and convicted, the three would each face up to two years in prison.
In 2016, the Yangon Regional Government investigated two other media workers from Eleven Media for "online defamation" under Article 66(d) of the 2013 Telecommunications Law, after they published an article about the Yangon State Chief Minister.
In recent years, Myanmar has seen a renewed deterioration of press freedom and freedom of expression more generally. Two Reuters journalists, Wa Lone and Kyaw Soe Oo, are each serving seven-year sentences after being found guilty under the colonial-era Official Secrets Act for reporting on a Myanmar military massacre of Rohingya men in Rakhine State.