Myanmar: Internet blackout a 'heinous and reckless decision'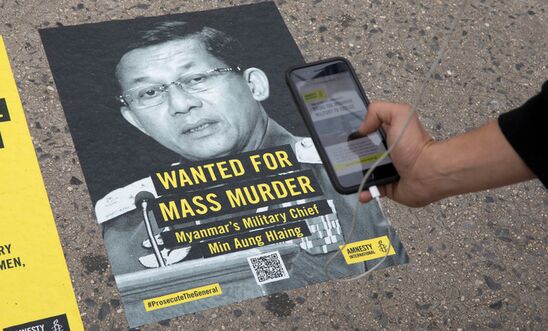 Army general and military leader Min Aung Hlaing (pictured) has been accused of genocide, crimes against humanity and war crimes © Amnesty International
Reports of a widespread mobile internet blackout instigated by the military
'The military must re-establish all telecommunications immediately and stop putting people's rights in danger' - Ming Yu Hah
Responding to credible reports of a widespread mobile internet blackout underway in Myanmar, Ming Yu Hah, Amnesty International's Deputy Regional Director for Campaigns, said:
"To shut down the internet amid a volatile coup, a humanitarian crisis and a health pandemic is a heinous and reckless decision. 
"Since the 1 February coup, people in Myanmar have been forced into a situation of abject uncertainty. An expanded internet shutdown will put them at greater risk of more egregious human rights violations at the hands of the military.
"Mobile operators and telecommunications providers in Myanmar must seek urgent clarification from the Myanmar authorities.
"The military must re-establish all telecommunications immediately and stop putting people's rights in danger."