Myanmar: Filmmaker sentenced to prison for Facebook post criticising military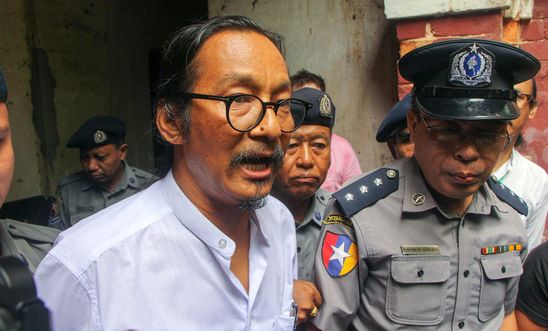 Responding to the news that filmmaker Min Htin Ko Ko Gyi was today sentenced to one year in prison in Myanmar for a Facebook post criticising the country's military, Nicholas Bequelin, Amnesty International's Director for East and South East Asia, said:
"Min Htin Ko Ko Gyi is a respected filmmaker who has already spent more than four months in detention for criticising Myanmar's military on social media.

"The guilty verdict handed down today is an appalling indictment of the state of freedom of expression in Myanmar, where a Facebook post can lead to time in prison. 

"This punishment is especially cruel because Min Htin Ko Ko Gyi suffers from serious health problems, including liver cancer, and needs specialist treatment. He should not be facing years in prison simply for peacefully expressing his opinion. His conviction is a travesty of justice which will instil fear and deter others from speaking out against the military. 

"Min Htin Ko Ko Gyi is a Prisoner of Conscience. His conviction must be quashed, and he must be released immediately and unconditionally

"The Myanmar authorities must immediately repeal and amend all oppressive laws used to target peaceful activists and critics, and stop politically motivated arrests and prosecutions of human rights defenders."
Accused of 'online defamation'
Min Htin Ko Ko Gyi is a prominent filmmaker and founder of the Human Dignity Film Institute (HDFI) and the Human Rights, Human Dignity International Film Festival in Myanmar. He was arrested on 12 April after a Myanmar military official accused him of defamation for a series of Facebook posts critical of the military's role in politics.
Min Htin Ko Ko Gyi has been detained in Yangon's Insein prison for more than four months since his arrest. He has been denied bail, despite suffering from liver cancer and undergoing a major operation earlier this year.
The Myanmar authorities continue to arbitrarily arrest, detain and prosecute activists and human rights defenders simply for peacefully exercising their right to freedom of expression. Amnesty continues to call for the abrogation of a number of legal provisions which arbitrarily restrict as well as criminalise the exercise of the right to freedom of expression, including Section 505 of the Penal Code and Section 66(d) of the 2013 Telecommunications Act.