Mexico: three police officers charged with torture offences in 'landmark' case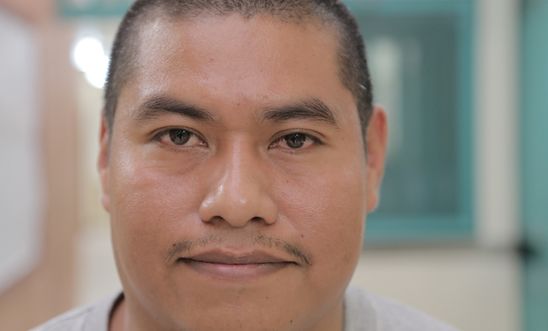 Adrián Váquez Lagunes was close to death after his torture © Amnesty International
Torture of Adrián Vázquez part of country's so-called 'war on drugs'
Three police officers have been charged with torture in Mexico's northern state of Baja California following a campaign by a torture victim Adrián Vázquez Lagunes, his family and their lawyer, and supported by Amnesty International.
This is the first time torture charges have been brought in Baja California, a Mexican state notorious for torture cases. Torture charges against the security services are extremely rare in Mexico - at the federal level there have only been seven torture convictions since 1991 when torture was made a crime in Mexico. 
Adrián Vázquez Lagunes was arrested, threatened, beaten and nearly asphyxiated during a 12-hour spell in state police custody in 2012. The Federal Attorney General's Office later accused him of illegally carrying firearms and being a high-profile drug trafficker, while ignoring his allegations of arbitrary arrest, torture and fabrication of evidence. He remains in detention while his trial is ongoing despite the fact that the only relevant evidence against him was allegedly planted on him by the police. 
After his arrest, Adrián Vázquez was examined by an official doctor, with the doctor concluded that the injuries Adrián sustained in police custody were not life-threatening and would heal within 15 days. Following this assessment, Adrián Vázquez collapsed and was rushed to hospital where he underwent life-saving surgery. The hospital's medical report identified multiple injuries caused by beatings, including lung and bladder injuries and abdominal trauma. 
It took two years for the authorities to carry out medical forensic examinations on Adrián Vázquez, and the ensuing forensic report failed to comply with basic international standards, a widespread problem in Mexico. Amnesty is calling on the authorities to take effective measures to ensure that all torture victims have access to adequate forensic examinations. 
Carolina Jimenez, Amnesty International's Americas Deputy Director for Research, said:
"This is a landmark moment for justice in Baja California, but there is still a long way to go. 

 

"The Mexican authorities must drop all charges against Adrián Vázquez and release him from prison immediately. At the same time the authorities must continue their investigations into this terrible case, bring all those responsible to justice and ensure this never happens again," 

 

"Adrián Vázquez's arrest and conviction is yet another example of the Mexican authorities riding rough-shod over justice in their race to address the country's so-called 'war on drugs'. 

 

"Mexico must make official forensic experts independent from prosecution services and ensure that all torture victims have timely access to adequate medical forensic examinations."
Widespread fear of torture in Mexico
Fear of torture is widespread in Mexico, with 64% of Mexicans saying they are scared of facing torture if taken into custody, according to a survey commissioned by Amnesty last year. Last September, Amnesty published a 77-page report - Out of control: torture and other ill-treatment in Mexico - showing that there had been a 600% increase in the number of reported torture cases in Mexico in the past decade.