Manus Island: Digital verification proves bullets were fired into refugee centre - new report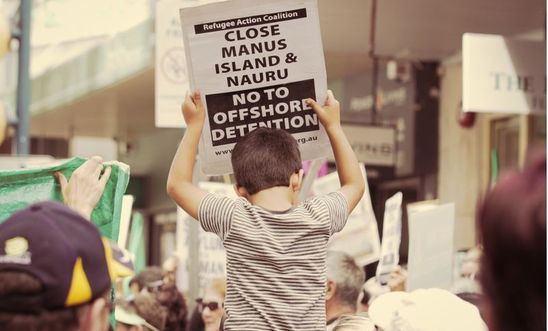 Bullets were fired directly into the Manus Island refugee centre on 14 April, putting the lives of refugees and asylum-seekers there in danger, new digital verification of images and videos has established.
A new Amnesty International report, In the Firing Line, disproves initial claims made by the Australian Department of Immigration and Border Protection and the Papua New Guinea Police, suggesting that the soldiers only fired bullets into the air.
Kate Schuetze, Amnesty International's Pacific Researcher, said:
"Our investigation shows there is no doubt that on 14 April 2017, bullets were fired not only into the air but directly into the Manus refugee centre in a way that seriously endangered the lives of the people inside.

"This was not an isolated incident. Refugees trapped on Manus Island have faced several violent attacks in the past. They are the direct result of an inherently abusive system put in place by the Australian government. Until that system is dismantled and the refugees are brought to safety, the threat to their lives will remain."
Amnesty is calling for a prompt, independent, impartial and effective investigation into what exactly happened on 14 April.
One month after the incident, the Australian government has failed to conduct an investigation, issue a formal statement, or release the CCTV footage of the shooting for independent verification and analysis.
Blaming the victims
Peter Dutton, Australia's Immigration Minister, has sought to diminish the seriousness of the shooting, drawing a link, on the apparent basis of no evidence, to an incident weeks before, when a 10-year-old boy had entered the centre, implying that the child was at risk.
Kate Schuetze said:
"Instead of waiting for the results of an investigation, Dutton has inflamed matters by making an irresponsible and unfounded claim about the shooting incident."
Refugees at Manus have expressed shock and dismay at Dutton's resort to allegations on the basis of no proof. An Afghan refugee said that he and other friends only gave the boy some food after he found him asking for food and money.
The 34-year-old Afghan refugee told ABC: "I experienced hunger, I experienced being thirsty, I experienced poverty and I know how it feels for a child to be hungry. And when I see that I cannot just close my eyes and not help."
Refugees at Manus have said that guards at the centre and CCTV footage could verify their account.
Kate Schuetze said:
"For Dutton to make such a claim is outrageous behaviour unworthy of a senior government official. For him then to try and connect it, weeks later, to drunken soldiers shooting at a refugee centre is reckless in the extreme and will put the lives of people there at even greater risk."
The refugees have now lodged a formal complaint with the Australian authorities about Dutton's comments and are pleading for the authorities to release the CCTV footage which they say will exonerate them.
Shut down Manus, bring the refugees to safety
Following a Papua New Guinea Supreme Court ruling last year that said the Manus Island detention centre is operating illegally, the Australian government has said that it will be shut down later this year.
Amnesty is calling on the Australian government to take action immediately.
Kate Schuetze said:
"Unless the detention centre on Manus Island is shut down and refugees and asylum seekers are brought to safety immediately, they will remain exposed to threats of violence."
History of violence incidents
On 18 October 2013, a fight broke out between PNG police officers and soldiers just outside the Manus refugee centre, leaving refugees fearful of their safety. Witnesses claimed two shots were fired, but the Australian government denied this.
On 16 and 17 February 2014, Reza Baerati was murdered and more than 60 asylum seekers were injured in an attack on the Manus refugee centre by Papua New Guineans living near and working at the centre.
On New Year's Eve 2016, media reports said two men seeking asylum on Manus Island were beaten severely by PNG police officers.