Malaysia: Unfair trials and secret hangings - new death penalty report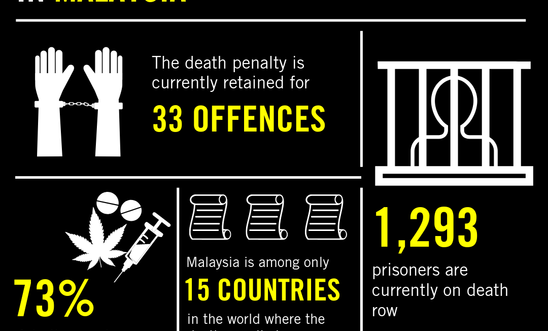 Malaysia must fulfil its promise to abolish the death penalty by swiftly ending capital punishment for drug-related offences and eliminating mandatory death sentences, Amnesty International said today, as it launched a new report marking the World Day Against the Death Penalty.
The 59-page report, Fatally flawed: Why Malaysia must abolish the death penalty, reveals how torture is used to obtain "confessions" in the country, while those accused have inadequate access to legal assistance.
Currently, there are believed to be 1,281 people on death row. The report highlights how 73% of those – 930 people – have been sentenced to death for drug-related offences in contravention of international human rights law. More than half (478) of those sentenced to death are foreign nationals.
In Malaysia, the death penalty can be imposed as the punishment for 33 offences, and is mandatory for 12 of these. In recent years, it has mostly been used for murder and drug trafficking convictions.
A year ago, the newly-elected government in Malaysia announced it would repeal the death penalty for all crimes, having already established a moratorium on executions in July 2018. But in a new parliamentary session this month, the government is now expected to table legislation that will remove the mandatory death penalty only – falling far short of full abolition.
Shamini Darshni Kaliemuthu, Executive Director of Amnesty International Malaysia, said:
"Our research found a pattern of unfair trials and secretive hangings. From allegations of torture and other ill-treatment to an opaque pardons process, it's clear the death penalty is a stain on Malaysia's criminal justice system.

"Amnesty International's research shows why this government must now honour its pledge to abolish this ultimate cruel and inhumane punishment without delay.

"Malaysia has a golden chance to break with decades of cruelty and injustice, disproportionately inflicted on some of the most marginalised."
Amnesty is calling on the authorities to continue to observe the moratorium on executions until the death penalty is fully abolished, and use the forthcoming legislation to repeal the mandatory death penalty for all crimes – including drug trafficking.
Death row for the most marginalised
Of the 1,281 people reportedly on death row as of February this year, 568 (44%) are foreign nationals who face serious obstacles in accessing consular assistance and interpretation.
Amnesty found that most people (73%) on death row were convicted of drug trafficking, with almost half foreigners. Many claimed they were coerced or manipulated into bringing small amounts of drugs into the country. Under international law, countries that have not yet abolished the death penalty must limit its use to the "most serious crimes," such as murder.
The cases of many women on death row show the devastating impact of Malaysia's draconian anti-drugs law, with nearly nine out of 10 women facing the gallows foreigners convicted of drug trafficking. In some cases, women said they were in serious financial trouble or were coerced into carrying the drugs. However, the mandatory death penalty means judges have no opportunity to give any consideration to these circumstances.
Amnesty's research also found that some of Malaysia's ethnic minorities are over-represented on death row, and data points to a large proportion of people from disadvantaged backgrounds.
Unfair trials
Lawyers and relatives told Amnesty that it was common for defendants who could not afford a lawyer to go without any legal assistance until charges were brought before a court. They also described a severely under-resourced legal aid system that left many defendants without legal assistance for long periods, often until the very start of their trial.
Suspects in death penalty cases can be detained for up to 14 days, and interviewees told Amnesty that it was common for defendants to "get beaten up" to extract "confessions". A UN working group investigation in 2011 found that "virtually all detainees" had suffered torture or other ill-treatment during their interrogations.
Despite the very high rate of foreigners sentenced to death, as well as the numerous languages spoken inside the country, Malaysian law does not provide for any interpretation services to support defendants who do not speak Malay other than in courtroom proceedings. Amnesty was told of cases of people being asked to sign documents in Malay despite not understanding the language.
Hoo Yew Wah, a Malaysian national of Chinese ethnicity, was arrested aged 20 in 2005 with methamphetamine and convicted based on a statement he made in Mandarin, his mother tongue, but which police recorded in Malay. He says the statement they made him sign is inaccurate, that police broke his finger during the  interrogation, and further threatened to beat his girlfriend if he refused to sign it. He did not have the assistance of a lawyer during the period in question. Hoo Yew Wah has been on death row since 2011.
A secretive pardon system
Malaysian law does not define the pardon process in any detail, nor does it set out the criteria for a pardon, or how prisoners or their families are notified of a decision. Defendants are not guaranteed a lawyer when they apply for a pardon, and many go without. Others fail to apply for a pardon altogether, either out of despair or because they do not want to admit guilt for a crime they say they did not commit.
While some pro-bono initiatives exist, access to these services is controlled by prison officials, and there is no transparency over how access is granted or denied. While the criteria used are unknown, they appear to disproportinately affect foreign nationals: half of them have not filed a pardon application.