Malaysia: Rohingya refugees face 'vicious' caning sentences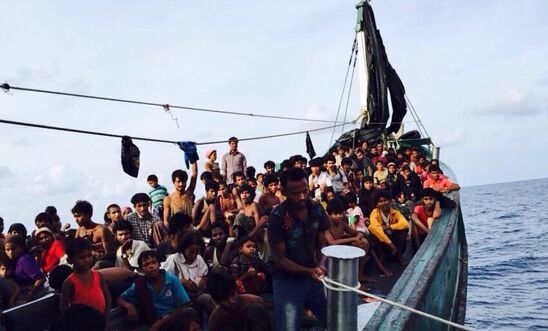 © Thapanee Ietsrichai
Men face caning and months in jail for supposed immigration offences in court hearings this week
'The inhumanity of this approach is atrocious' - Rachel Chhoa-Howard
The Malaysian authorities must immediately abandon "cruel and inhuman" plans to cane a group of Rohingya refugees for alleged immigration offences, Amnesty International said today.
In June, 31 men were convicted of "offences" under Malaysia's Immigration Act. The law allows for the imposition of six strokes of the cane and fines and up to five years' imprisonment for those deemed to be in Malaysia irregularly.
In April, the men had been allowed to disembark from a boat along with hundreds of other people off the Malaysian coast.
Later this week, the men face court hearings which could see them given jail terms of up to seven months, and around 20 of them face being lashed three times with a cane.
Meanwhile, nine women have been sentenced to seven months in jail on similar charges of entering and staying in Malaysia without a valid work permit, while 14 children have also been charged and are facing jail terms. Amnesty also understands that hundreds of others who disembarked from the boat in April are currently being held in immigration detention in Malaysia.
In April, the Malaysian authorities allowed 202 Rohingya people to disembark from a boat adrift off the coast of Langkawi. Other boats have been pushed back by the coastguard and military and since returned to Bangladesh. The Bangladeshi authorities have disembarked those on board and held some of them on the island of Bhashan Char, in the Bay of Bengal, with limited access to their families or humanitarian and protection services.
Since the start of the year, up to 1,400 Rohingya people have been stranded on boats in the Andaman Sea and the Bay of Bengal after undertaking extremely dangerous journeys, fleeing persecution in Myanmar and the hardships of refugee camps in Bangladesh
Rachel Chhoa-Howard, Amnesty International's Malaysia Researcher, said:
"The plan to viciously beat Rohingya refugees is not only cruel and inhuman - it's unlawful under international standards.

"To inflict such a violent punishment as judicial caning amounts to torture.

"The men who face violent lashings on top of jail terms have already fled persecution and crimes against humanity in Myanmar. They also survived a dangerous journey at sea to Malaysia in search of safety. The inhumanity of this approach is atrocious.

"These shocking punishments, including the caning, must be quashed and the refugees released immediately."
Corporal punishment with rattan canes
Amnesty has previously documented how judicial corporal punishment in Malaysia amounts to torture. Government officials tear into the flesh of prisoners with rattan canes (rotan). The pain inflicted by caning is so severe that victims often lose consciousness as a result. Suffering can last for weeks or even years, both in terms of physical disabilities and psychological trauma. Under international human rights law, all forms of corporal punishment are prohibited - they violate the absolute prohibition of torture and other cruel, inhuman or degrading punishment and often amount to torture.