Major Syria conference being held in Manchester - Fri 17 October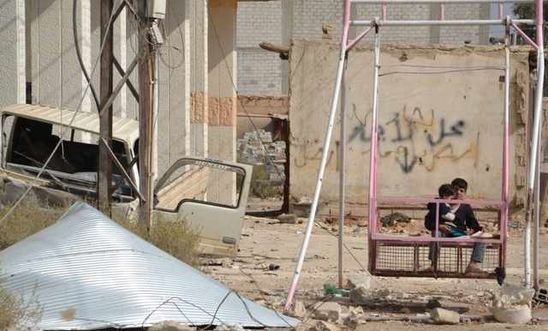 Children in the Damascus suburb of Daraya © Local Council of Daraya City
'This conference will show that there are practical actions that can still be taken to improve life for all Syrian civilians' - Kristyan Benedict 
A major conference on Syria is taking place in Manchester on the evening of Friday 17 October. 
The event brings together Syrians based in Manchester and leading experts to discuss the Syria crisis, including the threat posed by ISIS, the issue of "jihadi fighters" from the UK, and the rights and wrongs of British foreign policy. 
The event - "Syrian Conflict in Regional Crises: Complications, Implications and the Way Forward", which is organised by the Rethink Rebuild Society, a Syrian community group based in Manchester - features the following speakers:
Anas Al Abdah (Syrian National Coalition) 
Kristyan Benedict (Amnesty International UK)
Raffaello Pantucci (Royal United Services Institute) 
Dr James Pattison (University of Manchester)
Dr Christopher Phillips (Queen Mary, University of London) 
Asim Qureshi (CAGE) 
Amnesty International UK Syria Campaign Manager Kristyan Benedict, who is speaking at the event and chairing the event's two panel discussions, said:

 

"From vibrant protest movements three and half year ago, Syria has tragically descended into brutal repression and armed conflict.

 

"While things remain bleak in Syria this conference will show that there are practical actions that can still be taken to improve life for all Syrian civilians and even to find a way out of this crisis."
The event (6-10pm) is being held at the British Muslim Heritage Centre (College Road, Manchester M16 8BP).
Campaign for Syria's 'disappeared' prisoners
Amnesty recently launched a new
campaign
on "disappeared" prisoners in Syria, in particular highlighting the case of the human rights lawyer Khalil Ma'touq. Ma'touq, 55, a father of two from Syria's Christian minority, is the director of the Syrian Centre for Legal Studies and Research. He was last seen on 2 October 2012 as he set off for work in Damascus. It is feared that he was apprehended by government security forces en route to his office.