Life sentence for Ratko Mladic hailed as 'landmark verdict'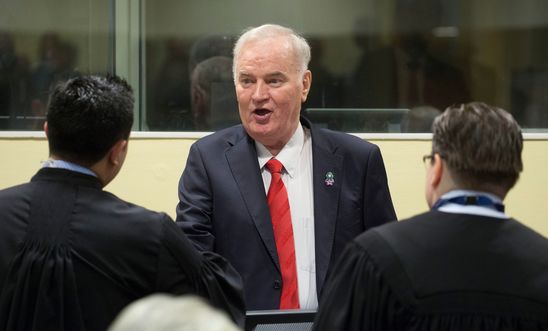 Today's conviction of the former Bosnian Serb war leader, former general Ratko Mladić, for crimes under international law - including genocide, crimes against humanity and war crimes - has finally delivered justice to tens of thousands of the victims of 1992-95 armed conflict in Bosnia and Herzegovina, said Amnesty International.
Mladić was sentenced to life imprisonment, by the International Criminal Tribunal for the former Yugoslavia, with The Hague court recognising his individual criminal responsibility as Commander of the Bosnian Serb Army, and his participation in joint criminal enterprises, including to terrorise the population of Sarajevo and eliminate Bosnian Muslims in Srebrenica. 
John Dalhuisen, Amnesty International's Europe Director, said:
"Today's verdict brings to an end the attempts by Ratko Mladić to evade responsibility for the deaths, rape and deportations of thousands of Bosnian Muslim and Croat victims.

"This landmark verdict marks a significant moment for international justice and sends out a powerful message around the world that impunity cannot and will not be tolerated.

"Whilst it does not end the suffering of those relatives who have waited more than 20 years to see this day, seeing justice delivered might offer them some closure.

"It is also an important reminder that more than 20 years after the Bosnian War, thousands of cases of enforced disappearances remain unresolved, and victims and their families continue to be denied access to justice, truth and reparation."
The Trial Chamber of International Criminal Tribunal for former Yugoslavia found Mladić guilty on 10 of 11 counts, including genocide and persecution on ethnic and religious grounds of Bosnian Muslims and Croats, as well as extermination, murder, deportation and other inhumane acts. He was also convicted of murder, terror, unlawful attacks on civilians and the taking of hostages.
He was acquitted on one count of genocide in relation to the crimes committed in six northern municipalities, but was found to have been part of the joint criminal enterprise to remove Bosnian Muslims and Croats from those territories.
His trial is one of the longest in the court's history due to the extent of the charges, the scale of the evidence including the hearing of 592 witnesses, and several attempts by his defence counsel to delay, or end the proceedings. His lawyers have said they will appeal against the verdict.
Mladić the mastermind
The prosecution had argued that Ratko Mladić should be convicted on two counts of genocide.
The first was for persecution aimed at destroying or permanently removing the civilian population in several municipalities (Foča, Kljuć, Kotor Varoš, Prijedor, Sanski Most, and Vlasenica) in 1992. The second was for his role in the joint criminal enterprise to eliminate the Bosnian Muslims in Srebrenica between July and November 1995. However, the trial chamber found that the prosecution could not prove genocidal intent in relation to the municipalities, and instead convicted Mladić for crimes against humanity and war crimes.
From 1992, Mladić was the mastermind of a campaign to remove and destroy the non-Serb civilian population in several municipalities across Bosnia. Mladić also failed to prevent or investigate crimes committed by members of the Republika Srpska Army or members of other Serb Forces and paramilitary groups effectively under his control.